CNC CMM has acceleration rates to 520 mm/sec².
Press Release Summary: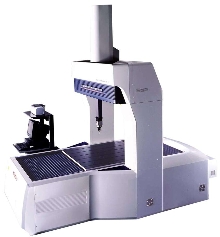 With XYZ measuring range of 1,210 x 1,210 x 810 mm, Legex®1200 Series incorporates spheroidal graphite ductile cast iron chassis and air-damped spring isolators to attenuate vibration. Machine, driven by MCOSMOS software, offers accuracy of MPE
E
= (0.6+1.5 L/1,000) µm and traverse speeds to 300 mm/sec. Product also features thermally-stable components, real-time temperature compensation, and UC 320VA controller.
---
Original Press Release:

Legex®1200 Series CMM Leverages Technology to Deliver Ultra-High Accuracy, Capacity and Value


(Aurora, IL) New Legex®1200 Series CNC Coordinate Measuring Machines from Mitutoyo America Corporation provide the highest levels of accuracy and capacity in their class. By combining state-of-the-art technologies in design, electronics, software, sensors and materials, the new Mitutoyo CMM offers performance improvements while at the same time providing a significant price advantage.

Ultra-high accuracy (MPEE = [0.6+1.5L/1000µm), a large measuring range (X:1210mm, Y:1210mm, Z:810mm) and high traverse speed (300mm/sec.) make the Legex 1200 CNC-CMM both productive and practical - in applications as diverse as measurement of large telescope lenses and inspection of large metallic molds, engine blocks and similar components - whether in production runs, or small lots.

The Legex 1200 is driven by MCOSMOS (Mitutoyo Controlled Open System for Modular Operation Support) software with modules supporting virtually every CAD format while providing routines for in-line measurement, data feedback, and process management. MCOSMOS also makes training easy and intuitive.

The construction of Legex 1200 machines incorporates the latest technologies. For example, spheroidal graphite ductile cast iron is used for the chassis which, together with air-damped spring isolators, effectively attenuates vibration. Also, use of thermally-stable components and real-time temperature compensation maintains ultra-high accuracy, even under extreme conditions.

A wide range of probes is supported including contacting, scanning and touch-trigger as well as laser and vision.


           SPECIFICATIONS

Measuring Range           X:1210mm

                          Y:1210mm

                          Z:810mm 

Resolution                0.01µm

Accuracy                  MPEE = (0.6+1.5L/1000) µm

Drive Speed               300mm/sec (vector)

Acceleration              520mm/sec² (vector)

Support Probe             MPP300Q / MTP2000/SP80/SP25M

Controller                UC 320VA


Mitutoyo America Corporation's nationwide network of Metrology Centers and support operations provide application, calibration, service, repair and educational programs for industry. This ensures that our 6,000+ metrology products will deliver measurement solutions for our customers throughout their lifetime. Contact Mitutoyo America Corporation, 965 Corporate Boulevard, Aurora, IL 60504. Phone: (630) 978-6455 Fax: (630) 820-7403
E-mail: info@mitutoyo.com Or visit our website at www.mitutoyo.com

More from Transportation Industry Products