CNC Carbide Cutoff System offers 9 in. bar stock capacity.
Press Release Summary: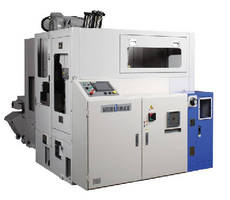 Utilizing 25-70 rpm saw spindle drive system, Nishijimax NHC-230 can saw 9 in. round 1045 bar stock in 50 seconds and provide surface finishes from 40-80 RMS. System's 51 hp induction motor drives saw blade spindle via reduction gearbox. In addition to ensuring that precise feed rate is set automatically, NC saw spindle feed axis maintains input chip load. Saw blade feed rate is controlled via AC servo motor with encoder, programmable servo drive, and precision ball screw.
---
Original Press Release:

New NHC-230 CNC Carbide Cutoff System from Nishijimax Boasts Bar Stock Capacity of 9"



Addison, IL - (November 16, 2009) Available only from Pat Mooney Inc. - The Saw Company, the new Nishijimax NHC-230 CNC Carbide Cutoff System Saw features a 9" bar stock capacity. Even with this increased capacity, the NHC-230 is still fast and accurate enough to replace 3 to 4 production saws. Fact is, the NHC-230 saws 9" round 1045 bar stock in 50 seconds and to near finish quality.

Nishijimax's use of a unique saw spindle drive system for the NHC-230 allows for 25 - 70 RPM blade speeds with unusually precise torque control. A 51 HP induction motor drives the saw blade spindle via a reduction gearbox. The RPM of the gearbox in controlled by a FREQROL Inverter Drive.

Nishijimax's NC Saw Spindle Feed Axis ensures that a precise feed rate is set automatically and input chip load is maintained. The saw blade feed rate is controlled via an AC Servo Motor with Encoder, a Mitsubishi Programmable Servo Drive and a precision ball screw. Compared to hydraulic systems, there is no fluctuation for temperature or condition of the oil. Job set up takes less than five minutes with the CNC Controller.

The rigid construction of the Nishijimax System also contributes to its highly accurate operation, and surface finishes from 40 - 80 RMS. The saw head travels on hardened and ground linear rails and the saw blade housing is mounted to the massive saw head. The saw blade is guided into the workpiece by ceramic guides that provide 6-point contact for zero-deflection and blade wobble.

Further increasing precision, the NHC-230 Series is equipped with a hydraulic material clamping system with horizontal and vertical clamps. An exclusively designed Nishijimax powder metal saw blade brake eliminates vibration as the blade enters the cut during high RPM sawing.

Pat Mooney is the exclusive importer and sales/service agent for Nishijimax Cutoff Systems. Serving the metal sawing industry for more than a half century, Pat Mooney has placed approximately 200 Nishijimax machines in service in the USA.

For more information, contact Pat Mooney Inc. - The Saw Company at 800-323-7503, e-mail info@patmooneysaws.com, visit www.patmooneysaws.com, or write Pat Mooney Inc. - The Saw Company, 502 S. Westgate Street, Addison, IL 60101, Phone: (800) 323-7503 Fax: (630) 543-5584.

More from Electronic Components & Devices