CNC Beam Line suits small to medium fabricators.
Press Release Summary: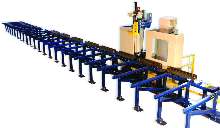 Ocean AVENGER CNC Beam Line, suited for steel fabricating industry, uses Siemens 840D CNC controller, fixed table, and moving drilling platform to process all steel profiles. Laser beam detects end of beam, setting the zero reference; all dimensions are referenced from this point. Unit processes beams up to 40 in. high of any length and weight and drills through 10 in. steel at rates from 150-200 holes/hr by utilizing through-the-tool-coolant system.
---
Original Press Release:

Ocean Avenger CNC Beam Line


The Ocean AVENGER CNC Beam Line is the newest development in the US steel fabricating industry, and is the first choice in beam lines for small to medium fabricators.

Manufactured right here in the USA for Ocean Machinery, the Ocean AVENGER is designed and built to the highest standards and specifications by Peddinghaus, the world's premier builder of steel fabricating machinery.

The Ocean Avenger is an incredibly versatile CNC beam line, able to process all steel profiles, including beams, channel, angle, round and rectangular pipe and tube, base plates, flat plate and more.

What makes the machine so attractive is that instead of long in-feed and out-feed conveyors that typically take up to 130ft of precious manufacturing floor space, the Ocean Avenger uses a fixed table and a moving drilling platform effectively cutting the floor space needed in half. To process 60ft beams, you only need 70ft of floor space.

Another equally attractive feature is that the Avenger beam line sells for less than half the price of a typical 3-spindel beam line, yet will process up to 400Tons per month on a single 8-hour shift with only one operator.

The machine features a laser beam that detects the end of the beam, setting the zero reference. All dimensions are referenced from this point. The machine also probes the web to detect the center point of the flanges, creating a virtual web centerline. This ensures the positioning of the flange holes equidistant from the web centerline.

All profiles found in the AISC library are included in the user-friendly Peddimat software. The machine will process beams up to 40" in height, any length and any weight. The Avenger will drill through 10" of steel without hesitation due to the through-the-tool-coolant system. This allows the Avenger to process the heaviest US steel profiles.

This machine completely eliminates manual layout of holes and marks, and efficiently drills the holes at an output of 150 - 200 holes per hour. This unheard of productivity completely changes small the fabricators' profitability and allows him to compete with the larger fabricators.

Our Recent Time Studies comparing the Ocean Avenger with the manual layout and mag drilling indicate why Ocean Machinery has sold over 40 beam lines in the past 20 months

Fabricator	        Profile	    # of holes	Hole Dia	Avenger Time	Time to manually layout and mag drill	   

Lone Oak Fabricating	W12 x 20 	14	  13/16"	2 min 48 secs	30 mins - 1 hour	   

Shetron Welding	        W30 x 108	84	  13/16"	32 mins	        5 - 6 man hours	   

Svendsen Enterprises	W33 x 291	100	  15/16"	1hrs  45 mins	20 - 24 man hours

The Avenger uses the Siemens 840D CNC controller. This is one of the most widely used controllers in the country and is supremely robust. To help remove the possible anxiety of adopting CNC machines, Ocean Avenger supplies the CNC controller with a 2-year on-site parts and labor warranty. The tech support line is also manned 24-7. With all this support, all possible fears have been removed and the small fabricator has been quick to embrace the Avenger drill line.

Ocean Machinery has an extensive national distributor network that assists in the sales of the Ocean Avenger. In 2002 Ocean Machinery was the number one seller of single spindle beam lines in the USA, and based on current sales, looks set to repeat in 2003.

For a free video and literature pack, please call Ocean Machinery today at 800 286 3624 or at 954 351 0899.

The Ocean Avenger Website www.oceanavenger.com provides a complete overview of the machine and its features. Ocean Machinery's full range of products can be viewed at www.oceanmachinery.com

More from Controls & Controllers