CNC 5-Axis Backgage offers 3,000 ipm positioning rates.
Press Release Summary: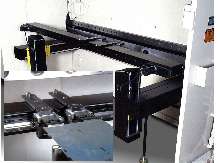 Available on 90-350 ton AUTOFORM press brakes, product features independent Z1, Z2 left-right axes suited for multi-die setups where operator must work down length of bed. Closed-loop servo drives zip gage fingers from bend to bend and provide lock-in of gage positions. Multiple programmable axes eliminate manual positioning of gage fingers and gage bars. Features include interference-removing flip capability, 2 gage finger bases, 2 step fingers, and 2 solid fingers.
---
Original Press Release:

5-Axis Backgage Speeds Multi-Die Bending with 3000 ipm Positioning in Left-Right Axes


September 2003 - A new high-speed CNC Five-Axis Backgage from Cincinnati Incorporated brings greater speed, productivity and versatility to AUTOFORM press brakes. The 5-axis backgage features industry's fastest positioning speed where needed most - 3000 ipm on long Z1, Z2 left-right axes. The independent Z1,Z2 axes are ideal for multi-die setups where the operator must work down the length of the bed. Closed-loop servo drives zip the gage fingers from bend to bend, then provide fast, precise lock-in of gage positions.

Multiple programmable axes speed setup by eliminating manual positioning of gage fingers and gage bars. Complex multi-bend shapes are efficiently formed in one handling with rapid, precise, programmed positioning of:

o Z1, Z2 left-right axes - 3000 ipm across bed length with ±.015" positioning accuracy and repeatability.
o X1, X2 in-out axes - 24" range at 1200 ipm with ±.00l" accuracy and repeatability.
o R up-down axis - 8" range at 300 ipm with ±.005" accuracy, ±.003 repeatability.

Versatility to flip over
The new backgage also offers interference-removing flip capability as a standard feature. Finger bases enable two-position mounting - upper position for standard processing of most jobs, while flipping to lower position allows the gage to be used with rear work supports or with lower dies resting directly on the bed. This low-profile design allows material to pass through the machine housings and over the top of the gage bar to form deep flanges.

The Five-Axis Backgage comes standard with two gage finger bases, two step fingers, and two solid fingers. Users can create custom fingers for special gaging requirements. A new rigid method for mounting gage fingers to the backgage eliminates finger movement during long production runs.

A finger library in the machine control improves first part accuracy. Programmed finger dimensions eliminate the need for calibration blocks when changing gage fingers. The software automatically calculates flange corrections and repositions gage fingers after the operator enters the actual left-right flange dimensions. Available on 90 to 350 ton AUTOFORM press brakes, the backgage is designed to process material up to 1/4" thick that can be handled by one or two operators. With reasonable care, thicker materials weighing up to 150 lbs. can be manually processed.

For more information on the new 5-Axis Backgage and AUTOFORM press brake line, contact: Cincinnati Incorporated, Box 11111, Cincinnati OH 45211. Tel: 513/367-7100. Fax: 513/367-7552. Email: info@e-ci.com. Web site: www.e-ci.com

More from Test & Measurement