Vision and Imaging Sensors / Detectors
CMOS Image Sensors address Hi-Res industrial/traffic applications.
Press Release Summary: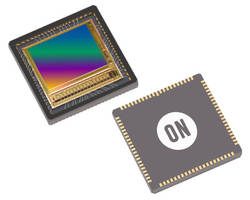 Available in mono, color, and extended NIR variants, PYTHON 2000 and 5000 offer respective resolutions of 2.3 and 5.3 MP for general-purpose image sensing applications. Both sensors leverage in-pixel CDS (ipCDS) technology, which enables global shutter imaging with Correlated Double Sampling (CDS) in compact pixel size. PYTHON pixel allows capture of fast moving scenes without distortion by combining read noise of 9 e- with 7.7 V/lux sensitivity and frame rates as high as 850 fps (VGA).
---
Original Press Release:

ON Semiconductor Expands PYTHON CMOS Image Sensor Family to Address Higher Resolution Industrial and Traffic Applications



New 2.3 megapixel and 5.3 megapixel image sensors combine global shutter with low-noise, high sensitivity and high speed in a hardware scalable solution



VISION Trade Fair - STUTTGART, Germany – ON Semiconductor (Nasdaq: ONNN), driving energy efficiency innovations, has introduced two new higher resolutions CMOS image sensors to its successful PYTHON product family. The new PYTHON 2000 and PYTHON 5000, with resolutions of 2.3 megapixel (MP) and 5.3 MP respectively, address the needs of general purpose industrial image sensing applications such as machine vision, inspection and motion monitoring, as well as security, surveillance and intelligent transportation systems (ITS).



The PYTHON 2000 and PYTHON 5000 have been designed with a focus on performance, versatility and ease of use. Together with the previously released PYTHON 300, 500 and 1300, this entire family of sensors can be supported from a single PCB, greatly simplifying the design of a broad range of cameras offerings. The result is a hardware scalable product family where all sensors have the same data, control and optical interface, thus allowing camera manufacturers to rapidly roll-out products with multiple resolutions, from VGA to 5 MP, with greatly minimized development effort.



"The PYTHON family delivers a high-speed imaging solution without compromising image quality," said Chris McNiffe, vice president of image sensor products at ON Semiconductor. "A choice of resolutions all supported by a single PCB – plus programmability and numerous features that enhance performance – combine to make the PYTHON family an important addition to the market that will allow designers of  industrial image systems to meet the most stringent demands from their customers."



ON Semiconductor's patented in-pixel CDS (ipCDS) technology enables global shutter imaging with Correlated Double Sampling (CDS) in a compact pixel size, resulting in CCD-like optical performance in an attractive combination of optical formats and resolutions. The resulting PYTHON pixel allows the capture of fast moving scenes without distortion by combining a read noise of 9 e- with 7.7 V/lux sensitivity and frame rates as high as 850 frames per second (VGA). The devices boast highly attractive speed and optical performance, high configuration flexibility including fast on the fly updates to sensor settings, various trigger and control options, and operational support across the -40°C to +85°C industrial temperature range. Both new sensors are available in mono, color and extended Near-Infrared variants, further expanding PYTHON's capabilities.



PYTHON 2000 and PYTHON 5000 are sampling today, with full production expected in the first quarter of 2015. For more information about the PYTHON image sensor family, visit www.onsemi.com/python.



VISION Trade Fair

The PYTHON 2000 and PYTHON 5000 Image Sensors will be demonstrated in the ON Semiconductor booth (1C82) at the 2014 VISION trade fair, held November 4 – 6 in Stuttgart, Germany.



Follow @onsemi on Twitter: www.twitter.com/onsemi



About ON Semiconductor

ON Semiconductor (Nasdaq: ONNN) is driving energy efficient innovations, empowering design engineers to reduce global energy use. The company offers a comprehensive portfolio of energy efficient power and signal management, logic, discrete and custom solutions to help customers solve their unique design challenges in automotive, communications, computing, consumer, industrial, LED lighting, medical, military/aerospace and power supply applications. ON Semiconductor operates a responsive, reliable, world-class supply chain and quality program, and a network of manufacturing facilities, sales offices and design centers in key markets throughout North America, Europe, and the Asia Pacific regions. For more information, visit http://www.onsemi.com



ON Semiconductor and the ON Semiconductor logo are registered trademarks of Semiconductor Components Industries, LLC. All other brand and product names appearing in this document are registered trademarks or trademarks of their respective holders. Although the company references its Web site in this news release, such information on the Web site is not to be incorporated herein.



Contacts



Beth Johnston

Media Relations

ON Semiconductor

(208) 234-6738

Beth.Johnston@onsemi.com



Parag Agarwal

Senior Director Investor Relations

ON Semiconductor

(602) 244-3437

Parag.Agarwal@onsemi.com



Issued by:

Simon Krelle, Pinnacle Marketing Communications Ltd

Tel: (339) 368 6122

Email: s.krelle@pinnaclemarcom.com

Web: http://www.pinnacle-marketing.com

More from Material Processing