CMOS Cameras optimize solar wafer inspection.
Press Release Summary: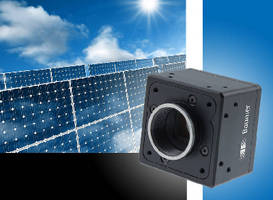 Using electroluminescence, Models HXC20NIR and HXC40NIR detect fractures and failures in crystal structure of solar wafer, providing information on integrity and effectiveness of each wafer prior to next processing step. Model HXC40NIR offers resolution of 4 megapixels (2048 x 2048) with 1:1 aspect ratio, while Model HXC20NIR offers resolution of 2048 x 1018 megapixels. Equipped with CameraLink® interface, cameras support several image formats with up to 12 bits/pixel.
---
Original Press Release:

New HXC20NIR and HXC40NIR Cameras for Solar Wafer Inspection Double NIR Sensitivity



Southington Conn. -- For fast and efficient automated optical inspection of solar modules, Baumer introduces its new HXC20NIR and HXC40NIR CMOS cameras that measure electroluminescence and deliver high sensitivity in the near-infrared (NIR) light spectrum.

Compared with monochrome technology, the new HXC20NIR and HXC40NIR cameras are twice as sensitive at a wave length of 900 nanometers, using electroluminescence to effectively detect fractures and failures in the crystal structure of the solar wafer. The images provided by these cameras give information on the integrity and effectiveness of each wafer prior to the next processing step. Structural defects within the wafer can be easily detected, enabling better quality control in any wafer handling process.

The HXC20NIR and HXC40NIR cameras are even more sensitive than systems with NIR-optimized CCD sensors. The HXC40NIR camera offers a resolution of four megapixels (2048 x 2048) with a 1:1 (2048 x 2048) aspect ratio, features that qualify it to inspect square solar wafers. The high resolution means that fewer cameras can be used to inspect complete modules, simplifying and reducing the cost of inspection. Excellent
image quality with low readout noise is ensured by the high-performance global shutter sensor from CMOSIS with correlated double sampling (CDS).

The HXC20NIR offers a resolution of 2048x1018 megapixels and the same high resolution performance as the HXC40NIR.

The cameras support several image formats with up to 12 bits per pixel, and are equipped with a flexible CameraLink(r) interface that permits the highest frame rates in both base (3 taps) and full (10 taps) modes. The robust, industrial design of the cameras makes them extremely reliable, and an optimized thermal concept allows them to be used in an expanded temperature range.

For more information on Baumer's HXC20NIR and HXC40NIR cameras, contact Baumer Ltd. at 800-937-9336 or via email at sales.us@baumer.com.

The Baumer Group is a leading international manufacturer of sensors and system solutions for factory and process automation. In 2011 the innovative family-owned company employs about 2,500 people worldwide in 36 locations and 18 countries. The long lasting success is built on high customer focus as well as the innovative and diversified product range of the product segments Sensor Solutions, Motion Control, Vision Technologies, Process Instrumentation, and Gluing Systems. For further information please refer to www.baumer.com.