CMOS Bus Switches suit hot-plugging applications.
Press Release Summary: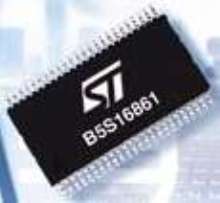 Pin-compatible with existing TTL parts, 20 bit, dual-port switches operate from supply voltages of 4-5.5 V. They have power-down protection on inputs and outputs and offer latch-up immunity and ESD protection to 2 kV. Off resistance and On resistance, typically rated at 2-25 ohm, maximize isolation when Off and minimize loading when On. Power dissipation is typically 1 µA. Devices are available in TSSOP48 package with up to 4 enable lines.
---
Original Press Release:

STMicroelectronics Introduces Pin-Compatible CMOS Versions of 20bit Bus Switch Family


Designed for hot-plugging applications

Geneva, January 16, 2004 - STMicroelectronics (NYSE: STM) has introduced a set of four high-speed CMOS 20bit bus switches that are pin-compatible with existing TTL parts. They are designed for use in applications such as PCI hot card insertion and voltage level translation, notebook docking stations, memory interleaving and general-purpose switching.

The parts are compatible with TTL outputs and operate from supply voltages of 4V to 5.5V. They have power-down protection on the inputs and outputs and are designed with improved latch-up immunity and an ESD protection to 2KV. This makes them suitable for use in applications where equipment is plugged and unplugged while powered. The parts also have a high Off resistance and a low On resistance, to maximize isolation when Off and minimize loading when On. Power dissipation is typically 1µA

The B5S16861 is a high-speed CMOS 20bit two-port bus switch, which can be controlled as two 10bit buses or one 20bit bus. Typical delay is a maximum of 0.25ns at 4.5V. The on resistance between two ports is typically 5 Ohm.

The B5S162861 differs by having a 25 Ohm series resistor in each output. This reduces noise resulting from reflections on the driven line, eliminating the need for an external terminating resistor. The typical delay is a maximum of 1.25ns at 4.5V. The on resistance between two ports is typically 25O.

The B5S16862 has four enable lines so it can be configured as four 5bit buses or one 20bit bus. The typical delay of the device is a maximum of 0.25ns at 4.5V. The on resistance between two ports is typically 5 Ohm.

The B5S162862 has four enable lines so it can be configured as four 5bit buses or one 20bit bus. Each output also has a 25 Ohm series resistor, reducing reflection noise. The typical delay of the device is a maximum of 1.25ns at 4.5V. The on resistance between two ports is typically 25 Ohm.

The parts are available in TSSOP48 package for $0.78 in 1k quantities.

About STMicroelectronics

STMicroelectronics is a global leader in developing and delivering semiconductor solutions across the spectrum of microelectronics applications. An unrivalled combination of silicon and system expertise, manufacturing strength, Intellectual Property (IP) portfolio and strategic partners positions the Company at the forefront of System-on-Chip (SoC) technology and its products play a key role in enabling today's convergence markets. The Company's shares are traded on the New York Stock Exchange, on Euronext Paris and on the Milan Stock Exchange. In 2002, the Company's net revenues were $6.32 billion and net earnings were $429.4 million. Further information on ST can be found at www.st.com.

For further information, please contact

Michael Markowitz
Director, Media Relations, US
212-821-8959
michael.markowitz@st.com

Carol Brown
Media Relations
602 465 9213
carol.brown@st.com

More from Thermal & Heating Equipment