CMMS Software incorporates fleet management.
Press Release Summary: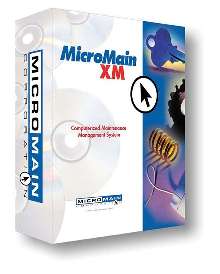 MicroMain XM(TM) v6.0 enables customers to manage maintenance and costs associated with vehicles, including tracking vehicles, Vehicle Maintenance Reporting Standards codes, tires, fuel, and fluids. Users can assign multiple meters to assets, view history of meter reading updates, track asset's current condition, and store depreciation and leasing information. Software includes filtering options, Microsoft Outlook®-like scheduling capabilities, calendar control for date fields, and form selections.
---
Original Press Release:

MicroMain Unveils Next-Generation Maintenance Management, New Branding in 6.0


New MicroMain XM Incorporates Fleet, Extensive Features
in Computerized Maintenance Management System

(March 6, 2003) AUSTIN, TX - MicroMain Corporation, a leading provider of asset and facility management software and services, today announced the release of MicroMain XM(tm), release 6.0 of its computerized maintenance management system (CMMS). This next-generation release incorporates fleet management as an integral component of the system and extensively upgrades features related to asset and inventory management.

With release 6.0, MicroMain also announced the product's name change from MS2000 to MicroMain XM. Unlike standard practice for other CMMS products, MicroMain XM will ship with the entire source code included. This gives customers complete control regarding customization.

With new fleet management, MicroMain XM enables customers to manage the maintenance and costs associated with all vehicles. This includes tracking vehicles, Vehicle Maintenance Reporting Standards (VMRS) codes, tires, fuel and fluids. The software also allows users to store detailed fleet information, such as tire warranty and usage-including a warning, for example, when the current tread depth on a vehicle's tire falls below the standard safety level of 2 millimeters.

"By including fleet management as an integral part of our software, MicroMain XM clearly stands apart from other CMMS products on the market today," said Joe Brummer, Vice President of Marketing with MicroMain. "Our customers wanted fleet
plus expanded features, and we're very pleased to deliver a product that exceeds their expectations."

Managing assets-vehicles, equipment, or areas in an organization-is a critical component of maintenance management. Assigning multiple meters to assets, viewing the history of meter reading updates, and tracking an asset's current condition are now possible with MicroMain XM, as are storing depreciation and
leasing information. The software also assigns and tracks costs associated with an asset, such as licenses or insurance.

Labor and parts are very important in maintenance as well, as are work orders that assign routine or "on-demand" services to be performed on an asset. New features in MicroMain XM give users the ability to track individual labor work order assignments and view current estimated hours scheduled to work. In addition, users can store pictures of parts, identify and track cross-referenced parts, track individual purchase
orders, add or remove assets to which a part has been assigned, and view a summary of part inventory quantities and costs.

New functionality in MicroMain XM includes additional filtering options, Microsoft Outlook®-like scheduling capabilities, calendar control for date fields, and more form selections. Editing options are now available in areas such sales tax rate fields on purchase orders and inspection failure fields. MicroMain's CMMS, while always flexible and customizable, has enhanced its functionality to give users even more ways to set up the program in a manner that best suits their needs.

"Maintenance is a part of life in all industries, and we are delighted to offer a way to simplify maintenance operations while maximizing productivity," said Pat Conroy, President of MicroMain. "Because our system also reduces costs, we're enabling our customers to turn maintenance into a profit center.

"Release 6.0 is the most extensive upgrade since the product moved from DOS to Windows in 1995," he added. "With its new features and functionality, we've made MicroMain XM not only the most comprehensive but also the easiest-to-use maintenance management system available today."

About MicroMain
MicroMain Corporation (www.micromain.com ) provides award-winning asset and facility management software and services to organizations worldwide. All MicroMain products are delivered with complete source code, an unprecedented offering that gives each customer complete solution control and flexibility. With MicroMain's easy-to-use system, customers simplify the maintenance process with automated work orders, improved preventive maintenance scheduling, and enhanced asset tracking and inventory control, which reduces downtime and significantly lowers costs. MicroMain's data-enabled facility drawings and reports also enable professionals to better manage and extend facility operations. Founded in 1991 in Austin, Texas, MicroMain supports over 14,000 licenses in more than 4,500 facilities throughout the world.

MicroMain and MicroMain XM are trademarks of MicroMain Corporation. Microsoft Outlook is either a registered trademark or trademark of Microsoft Corporation in the United States and/or other countries.

Contact
Karen Roller
Director of Public Relations
MicroMain Corporation
512-328-3235 x24
karenr@micromain.com

Copyright © 2003 MicroMain Corporation. All rights reserved.

More from Laboratory and Research Supplies and Equipment