CML Presents SCT2400 Transceiver with Advanced Forward Error Correction Feature
Press Release Summary: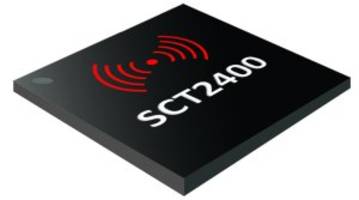 Designed for systems operating unlicensed bands to sustain secure digital voice and data communication channels over long range
Provides range of over 12km with up to 100mW of output power and suitable for digital voice and data applications
Offered in 10 x 10 mm, 144-BGA package with voice coding expertise option
---
Original Press Release:
CML Introduces Long Range Low Power Digital Voice and Data Transceiver for 2.4GHz Band
Maldon, Essex - 8 May 2019 - CML Microcircuits is pleased to announce the availability of the SCT2400 transceiver, designed to sustain secure digital voice and data communication channels over ranges in excess of 12km (line of sight) for systems operating in licensed and unlicensed bands.
The SCT2400 is a highly integrated digital radio transceiver based on spread spectrum modulation operating in the 2.4GHz frequency range. As such, it can be deployed in multiple geographical regions to enable products operating in both licensed and unlicensed applications. Its exceptional range of over 12km (line of sight) with up to 100mW of output power is achieved while consuming just 10mA in scan mode, around 52mA when receiving voice and just 64mA when transmitting voice. Its low power credentials and security features make it an ideal solution for a range of digital voice and data applications.
The features integrated into the SCT2400 include CML's voice coding expertise and advanced forward error correction, meaning it can maintain clarity and security over long ranges in low power radio systems such as Private Mobile Radio (PMR) and Land Mobile Radio (LMR). This will enable PMR/LMR to move from disparate and regional bandwidths into the 2.4GHz ISM band, now globally recognised as the preferred license-free operating frequency. Adopting the SCT2400 in new designs will enable manufacturers to standardise on a single platform for multiple regions, while the support for short data messages will also elevate the feature set of PMR/LMR and allow it to address new markets and emerging applications.
Commenting on the release of the SCT2400, David Brooke, Product Manager for CML's Voice and Data products, said: "The SCT2400 is a truly ground-breaking product, as it will enable developers to realise innovative solutions in smaller form factors, while delivering exceptional battery life when compared to current radios. This offers customers the potential to achieve exceptionally long-range voice and data communications and we are excited to see what new products the SCT2400 will enable."
The SCT2400 achieves a power consumption that is up to a factor of five better than competing products targeting PMR. Its low power dissipation and small size (10mm by 10mm, 144-BGA package) means it can be used in portable, mobile and wearable products, including fitness trackers, smart clothing and wireless headsets. The SCT2400 operates from a single 3V supply and supports digital voice modes that include peer to peer, group call and broadcast, along with an SMS data mode.
About CML Microcircuits
CML Microcircuits is a world-leader in the design, development and supply of low-power analogue, digital and mixed-signal semiconductors for telecommunications systems globally.
The company's wide and varied portfolio means that CML devices are used in an extensive range of industrial and commercial products for licensed and unlicensed wireless voice and data systems.
Focusing on narrowband communications, CML's ICs are found in digital/analogue PMR/LMR, wireless data, satellite communications and marine radio applications, such as TETRA, DMR, dPMR, SCADA systems and Marine communications. The CML portfolio provides components supporting both RF and baseband functionality, encompassing both leading edge digital and legacy analogue systems.
In addition to our established range of devices, we are able to offer bespoke solutions to customers. This service includes design assistance, advice and first class technical support.
Our FirmASIC® approach enables us to produce the optimum solution to a given design requirement. The outcome is a product offering that embraces a number of key technologies and delivers the result cost-effectively with fast time to market, ultimate flexibility and low risk.
CML Microcircuits is a member of the CML Microsystems Plc. Group of companies.
CML Microcircuits contact
Jessica Hickman
Marketing and Communications Officer
Email: jhickman@cmlmicro.com
Telephone: +44 (0)1621 875500
Press contact
Sarah Hatcher
Account Director, Media Relations & Client Services
Publitek
Email: sarah.hatcher@publitek.com
Telephone: +44 (0)1225 470000
More from Controls & Controllers