CMCO Adds Hoosier Crane as Master Parts Depot for Budgit Hoist Line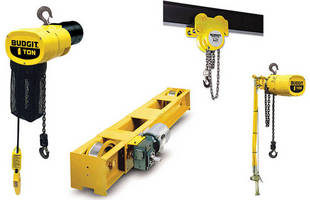 Hoosier Crane Service Company expands their product line by adding Budgit Hoists parts, manual hoists, electric chain hoists, air hoists and crane components to their product line.



Hoosier Crane Service Company has just expanded it's already extensive line of hoist, crane component and parts.  Columbus McKinnon ( CMCO ) just allowed Hoosier Crane to add the Budgit Hoist product line to their lineup.  Hoosier Crane was already a Master Parts Depot for the CM, Yale and Shaw-Box brands from Columbus McKinnon.  The addition of the Budgit hoist line will make Hoosier Crane one of the only Overhead crane and hoist companies in the world to distribute all four of these CMCO brands as a Master Parts Depot.



Hoosier Crane Service Company is now able to service and support warranty repairs for Budgit Hoists.  This is in addition to service as a warranty repair center for CM Yale Shaw-Box and many other overhead crane and hoist brands.



Hoosier Crane is centrally located in Elkhart, Indiana making for an ideal distribution center for hoist and crane parts.  Budgit Hoist parts, hoist and overhead crane components can be purchased from Hoosier Crane by Phone at 800-509-6131 or by completing a parts request for quote at http://www.hoosiercrane.com/rfq



In the coming weeks the Budgit line will be added to Hoosier Crane eStore for easy online purchase of Budgit chain hoists and Budgit parts at http://store.hoosiercrane.com



Hoosier Crane states that one of the benefits of adding the Budgit line is that they will now be able to offer their very competitively priced end trucks for overhead cranes.  Budgit end trucks offered by Hoosier crane will include push end trucks, hand geared end trucks and motorized end trucks.  The end trucks will be available for sue in overhead crane manufactured by Hoosier crane in bother top running and under hung models, as well as part of overhead crane kits.



Hoosier Crane Service Company will now have a further advantage in servicing overhead cranes.  They will now be able to purchase repair parts for Budgit Liftech crane and hoist systems.  This will give customers a price advantage for repair parts.



About Hoosier Crane Service Company

Founded in 2002 with a focus on Overhead crane and hoist service and inspections, Hoosier Crane has grown to be a leader in the crane industry. While still a family owned company, they have grown to serve an international market extending their specialization to manufacturing and selling overhead bridge cranes, crane kits, jib cranes, gantry cranes. Hoosier Crane also maintain strongly competitive pricing on wire rope hoists, electric chain hoist and manual chain hoist product from all major manufacturers. Hoosier Crane Service Company is a Gold Level partner with CMCO.  Hoosier Crane is also a Master distributor of R&M Material, Harrington Hoist Gorbel and many other top crane and material handling brands. Hoosier Crane Service Company is based in Elkhart, IN where they recently expanded their headquarters by 25% to accommodate increased overhead bridge crane manufacturing orders.

More from Waste Management & Waste Handling Equipment