Clutch/Brake keeps cool under heavy loads.
Press Release Summary: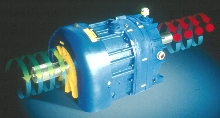 Posidyne(R) clutch/brake is engineered for 600+ cpm and up to 500 brake HP. Unit transmits torque by shearing automatic transmission fluid between multiple friction discs, reducing wear contact. Fluid absorbs heat of engagement and dissipates it through housing. Clutch/brake comes in 11 sizes, each with 5 control logic options, 4 cooling system choices, and 8 mounting configurations.
---
Original Press Release:
Posidyne(R) Clutch / Brakes Keep Cool When Heat's On in High Cycling of Heavy Loads

Proven low-inertia, oil-shear design ends fade, early failures above 70 cycles per minute.
High performance clutch/brakes deliver 600+ cpm with up to 500 brake hp

May 2002 -Posidyne(R) clutch/brakes provide a proven "keep cool" solution when the heat's on in high-rate, heavy-load cycling. Heat dissipating oil-shear design comes on strong where conventional designs can fade and fail - 70 to 150 or more cycles per minute driving heavy loads. Engineered for 600+ cpm and up to 500 brake hp, Posidyne clutch/brakes from Force
Control Industries (Fairfield OH) offer vital performance reserve for critical applications demanding high repeatability and 24/7 runtime reliability. The versatile clutch/brakes bring
performance proven over 20 years and thousands of hard-time industrial applications to rapid and precise stopping, starting, reversing, speed changes and positioning. Proprietary stack-the-deck engineering -multiple small-diameter disks on the brake stack - optimizes friction area while reducing inertia for world-class accel/decel in fast cycling operations.

Creative design by Force Control, world leader in oil-shear technology, dissipates heat, reduces friction wear, and cushions engagement shocks, while saving on energy, downtime and maintenance costs. Posidyne clutch/brakes transmit torque by shearing automatic transmission fluid between the multiple friction discs, reducing wear contact for exceptionally
long service life. The fluid absorbs the heat of engagement and dissipates it through the housing. The high thermal capacity virtually eliminates torque fade and provides excellent positioning repeatability in cycling applications.

Fluid shear cushions engagement to reduce load shocks and component stresses for long drive life with minimum of maintenance. Pneumatic actuation makes it easy to precisely
control both torque and engagement speeds with an ordinary pressure regulator, as well as adjust for rapid or soft starts/stops. The design reduces high starting in-rush currents and associated power factor imbalance, saving on energy costs.

The versatile Posidyne clutch/brakes come in 11 basic sizes, each with five control logic options, four cooling system choices, and eight different mounting configurations. American-
made, Posidyne clutch/brakes work tough in industry's most rugged conditions and applications - foundries, steel mills, mining and mineral processing, wood/lumber production, and insulation/roofing products manufacturing.

For additional information on Posidyne clutch/brakes, contact Stan Porter, Sales Manager, Force Control Industries, Inc., P.O. Box 18366, Fairfield OH 45108. Phone 1-800-869-3244. Fax 513/868-2105. E-mail:info@forcecontrol.com