Cloud Transcoding Platform addresses latency.
Press Release Summary: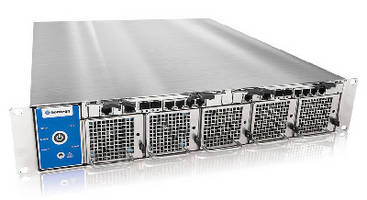 Featuring up to 18 Intel Core i7-3615QE Quad-Core processors with integrated Intel HD Graphics 4000, SYMKLOUD MS2900 Media Platform is designed for cloud-based media content delivery and transcoding applications. System integrates switching, load balancing, and processing in 2U rackmount design, enabling cloud service providers to configure clusters of highly dense 42U cabinets. Extensive power management adapts power consumption to workload and dynamically powers processors up/down independently.
---
Original Press Release:

Kontron Launches the SYMKLOUD MS2900 Media Platform for Cloud Transcoding



New media cloud platform to address latency and poor scalability of cloud transcoding infrastructure



Mobile World Congress, Barcelona: — Kontron, a global leader of telecom, network and cloud infrastructure platform solutions, announced today the launch of its SYMKLOUD MS2900 Media platform for cloud-based media content delivery and transcoding applications. The platform provides the framework for optimized streaming content to the mobile device as delivered by cloud service providers and Network Equipment Providers (NEPs) who offer hosted services. IPTV, Cable, Cloud and Mobile Cloud service providers can introduce new applications used for mobile and fixed video, unified communications and Video Surveillance as a Service (VSaaS) in a more economical way. They can achieve improved power efficiency and scalability and a much lower CAPEX for new deployments in the network, without any limitation on Carrier Grade High-Availability and switching capabilities.



With mobile devices challenged by power consumption and the usage of bandwidth-hungry video content, the need for efficient transcoding in the cloud has never been greater. As transcoding for mobile devices are moving in to the Cloud to offload the required processing on the mobile device, the result is better power efficiency on the mobile device. Working with Intel, Kontron has created the optimal solution that addresses the issue of energy efficiency, scalability and cost, and results in a better user experience. The Kontron SYMKLOUD Media platform is also designed to complement M2M applications as a connecting element for VSaaS.



The Kontron SYMKLOUD MS2900 Media platform addresses three main cloud server challenges: energy efficiency, expandability, and a costly OPEX. Its extensive power management adapts power consumption to the actual workload as well as dynamically powering up or down processors independently for significant energy savings. The integration of switching, load balancing and processing in a 3-in-1, 2U rackmount platform design, enables cloud service providers to configure clusters of highly dense 42U cabinets that require four to eight times fewer fibre and copper cables.



Benoit Robert, Kontron Executive Director, Product Management, Communications Business Unit said, "With mobile, IPTV and content delivery providers pushing more bandwidth-hungry content from their network, the demand from the end-user becomes greater. The rise of 4G LTE services and mobile tariffs also puts a strain on these providers, as consumers are beginning to expect higher quality content, such as HD, and are accessing OTT and TV Everywhere services such as Netflix, iPlayer and Hulu. Encoding video is a processor intensive job especially when outputting multiple video into multiple formats, and is often used by broadcasters, cable companies, and large production companies who need to encode large amounts of media into multiple formats, all at the same time. This is why Kontron chose to use Intel technology within its own SYMKLOUD Media transcoding platform, to enable a highly scalable and distributed processor approach to share application workloads."



Its overall modular approach makes the Kontron SYMKLOUD Media platform also capable of running multiple applications – including transcoding – across multiple independent low-power, high-performance processors. The Kontron SYMKLOUD MS2900 Media platform features up to 18 Intel Core i7-3615QE Quad-Core Processors with integrated Intel HD Graphics 4000, and is future-proofed to accommodate next generation Intel processors.



Transcoding requires a lot of compute cycles and is a fundamental necessity in the network, as numerous devices require a multitude of different bitrates, resolutions and codecs. The Intel Core i7-3615QE processor is the best-in-class solution for media optimization applications with its Intel Clear Video HD technology and Intel Quick Sync Video 2.0, which means smoother visual quality, spectacular HD media playback, and improved ability to decode and transcode simultaneous video streams while freeing up the CPU for other tasks.



"With mobile video predicted to double every year and two thirds of mobile data traffic thought to be video by 2015, the need to build out cloud infrastructure to accommodate consumer demand has never been so great," said Steve Price – Intel General Manager Communications Infrastructure Division. "Providers are concerned with services monetization, increased bandwidth requirements, reducing power and accommodating different standards required for content delivery. Solutions such as Kontron's SYMKLOUD enable service providers to prepare for video growth predictions as well as drive the growth for OTT and TV Everywhere, HD formats and devices, mobile video and video surveillance."



Be the first to see the live demos of the SYMKLOUD MS2900 Web and Media Transcoding platforms during Mobile World Congress in Hall 5, Booth 5B45, February 25 – 28, 2013.



Availability of Kontron SYMKLOUD MS2900 Media: Eval Units Q1,13; Production Q2,13.



For more information, please visit the Kontron SYMKLOUD MS2900 Media product page.



About Kontron

Kontron is a global leader in embedded computing technology. With more than 40% of its employees in research and development, Kontron creates many of the standards that drive the world's embedded computing platforms. Kontron's product longevity, local engineering and support, and value-added services, helps create a sustainable and viable embedded solution for OEMs and system integrators. Kontron works closely with its customers on their embedded application-ready platforms and custom solutions, enabling them to focus on their core competencies. The result is an accelerated time-to-market, reduced total-cost-of-ownership and an improved overall application with leading-edge, highly-reliable embedded technology.



Kontron is listed on the German TecDAX stock exchange under the symbol "KBC". For more information, please visit: http://www.kontron.com/  



Media Contacts



EMEA

Norbert Hauser

Kontron

Tel: +49 (8341)  803-0

norbert.hauser@kontron.com



Americas

Richard Pugnier

Kontron

Tel:+1 (858) 623-3006

richard.pugnier@us.kontron.com



APAC

Richard Pugnier

Kontron

Tel:+1 (858) 623-3006

richard.pugnier@us.kontron.com



All rights reserved. Kontron is a trademark or registered trademark of Kontron AG. Intel® and Intel® Core™ are trademarks of Intel® Corporation in the US and other countries. All other brand or product names are trademarks or registered trademarks or copyrights by their respective owners and are recognized. All data is for information purposes only and not guaranteed for legal purposes. Subject to change without notice. Information in this press release has been carefully checked and is believed to be accurate; however, no responsibility is assumed for inaccuracies.