Cloud Telematics Service supports in-vehicle products.
Press Release Summary: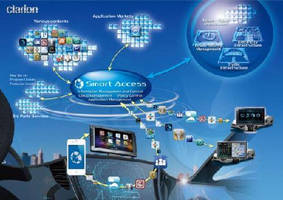 Through Smart Access Service, Clarion connects user to real-time information from variety of sources. Service supports smartphone connectivity, which allows variety of Smartphone apps to be used in car. VRM Vehicle Relational Management service secures car through maintenance and safety management as well as probe information, while CRM service continuously provides such information to customer for his/her protection. E Call emergency calling system will also be available as part of service.
---
Original Press Release:

"Smart Access" Cloud Telematics Service for In-Car Use to be Launched in U.S. and Japan Starting from June



CYPRESS, Calif., -- Clarion Co., Ltd. (Tatsuhiko IZUMI, President; hereinafter "Clarion") has created the "Smart Access" Cloud Telematics Service for the purpose of providing drivers with a more comfortable, safe and convenient driving environment. The service will be launched in June in North America and Japan, and will be implemented globally in stages. We have plans to introduce new products that are compatible with "Smart Access." By developing our telematics service business through "Smart Access," together with a new lineup of in-vehicle products delivering value-added connectivity, Clarion will transform from an "in-vehicle information equipment manufacturer" to a "in-vehicle information solution provider."

The global Smartphone market is growing at tremendous rates and is influencing the automotive industry in a substantial way. As it becomes increasingly more common for people to connect to the internet and use its applications globally, the ability to continuously deliver new features, functionality and benefits through an internet connection in the vehicle will become a universal necessity. With this future vision for the global market in mind, Clarion will strive to increase its in-car information business, and will provide telematics services in order to contribute to society through car manufacturer OEM devices and after-market products. This will be essential for Clarion's future, and the company will be taking its first steps in that direction with "Smart Access," which was developed in close cooperation with Hitachi Group.

Main Features:

(1) Variety of "Smart Access" main functions including Smartphone connectivity, VRM service and CRM service. "Smart Access" is designed to offer wide support for essential items in the future such as: "Smartphone connectivity" which allows the wide variety of Smartphone apps to be used in the car; "VRM (Vehicle Relational Management System) service" which secures the car through maintenance and safety management as well as probe information; "CRM (Customer Relational Management System) service" which continuously provides such information to the customer for his/her protection; and the "E Call" emergency calling system which is expected to spread globally in the future. Furthermore, "Smart Access" is designed to function not only as the proprietary telematics system for Clarion, but also as a common telematics system for car manufacturers.

(2) Provision of cloud services and variety of content developed through cooperation with various partners. Through "Smart Access," Clarion will be connecting the freshest, real-time information from a variety of sources, to the user, utilizing a "Cloud Telematics Service" basic architecture. What's more, in order to offer optimal and exciting in-car applications, new content will be planned and developed in conjunction with various partners that are leaders in their specific fields.

(3) Maintaining trust and a high reliability based on technological expertise, quality assurance and security technologies in developing in-vehicle information equipment. Clarion will continue creating a safe and secure in-vehicle internet connection system. Moreover, since core development will take place in cooperation with Hitachi Group, it will be possible to leverage the vast capabilities within the Hitachi Group continuously, thereby providing safe and secure services to customers.

(4) Sustained development and provision of "Connective In-Vehicle Products." Starting with after-market products due to begin sales in June, 2012, upcoming newly developed in-vehicle equipment such as car navigation systems will be equipped with a "Smart Access" connection interface that will add new value to these "Smart Access Connective" Clarion products. Since frequent updating and addition of new application content is sustainable through "Smart Access," it will be possible to continue to provide new value to the user even after purchase. Moreover, in the OEM business, the interface will be open-sourced so that car manufacturers can not only have connectivity with their own in-vehicle equipment, but also with in-vehicle equipment by other manufacturers.

In conjunction with the launch of "Smart Access," Clarion has selected its new brand slogan "moves you, connects you" as the promotion keyword to express our new mission, and will be rolling out a new global promotional strategy based on it. The main thrust of Clarion's message is that "Clarion will move you, by connecting you with sound, information, comfort, and safety."

About Clarion

Clarion Corporation of America, headquartered in Cypress, California, is a subsidiary of Clarion Co. Ltd., headquartered in Japan, which has been a consolidated subsidiary of the Hitachi Group since 2006 and an international leader in car audio and electronics since 1940. The company is involved in the research, development, engineering, design, manufacturing, sales and marketing of mobile entertainment, navigation, communication and safety and security products for the automotive, marine, recreational vehicle, commercial fleet and heavy industry environments. Clarion has been the recipient of numerous awards for design innovation, support, manufacturing and product reliability from independent organizations and customers alike. The company has marketing and sales affiliates in Europe, North and South America, Asia and Australia. Clarion is located on the web at www.clarion.com.

Like us on Facebook: http://www.facebook.com/ClarionUSA

Follow us on Twitter: http://www.twitter.com/ClarionUSA

Web Site: www.clarion.com

More from Controls & Controllers