Cloud-Ready IP Routers suit small- to mid-scale applications.
Press Release Summary: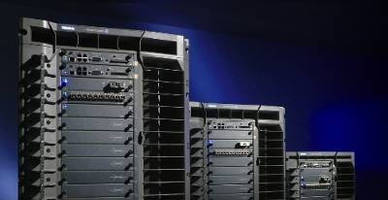 Offering full IP edge routing capability in mid-size form factor, 7750 SR-e Service Routers come in 400 Gbps, 800 Gbps, and 1.2 Tbps variants that support GE, 10GE, and 100GE interfaces. NEBS-compliant systems enable converged IP-optical network with GMPLS UNI. Routers leverage FP3 silicon and SR OS operating system as well as common network and service management with 5620 SAM Service Aware Manager, and multi-layer SDN control with Network Services Platform.
---
Original Press Release:

Alcatel-Lucent Broadens IP Router Family with Cloud-ready Platforms to Increase Capacity and Performance, Tailored for Use closer to the Customer



7750 SR-e series provides full IP edge routing in small to mid-scale applications while building on successful 7750 Service Router family in use with more than 700 service providers worldwide



PARIS,  -- Alcatel-Lucent (Euronext Paris and NYSE: ALU) is to introduce a new series of IP routers that will give service providers and enterprises an economically and ergonomically optimized platform for smaller locations in large-scale IP networks, or as a full-service router for smaller networks.



The new 7750 SR-e service router will expand Alcatel-Lucent's highly successful 7750 Service Router (SR) family, extending the benefits of service routing further into the network to give service providers and enterprises IP routing technology scaled to their needs at different network locations.



Communications networks today are advancing at an unprecedented pace to adapt to the shift in cloud-based operations, the emerging Internet of Things, ultra-high definition video and the ongoing demand for bandwidth. Residential and mobile users are also gaining higher speed access through technologies such as Fiber-to-the-Home, Wi-Fi, LTE and LTE-Advanced.



These events are putting significant pressure on aggregation networks and on the network service edge. In turn, operators are being driven to push edge service functions out from a few large, centralized sites to a more distributed architecture with many smaller locations.



This push has created the need for the Alcatel-Lucent 7750 SR-e, with full IP edge routing capability in a mid-size form factor. The 7750 SR-e series builds on the success of the 7750 Service Router family, including the 7750 SR-a series. The 7750 SR-a combines high-performance aggregation with IP services in an extremely compact form factor.  It has attracted over 60 new customers worldwide in its first three months of availability, including India's Bharti Airtel and Indonesia's Indosat.



By sharing a common Service Router Operating System (SR OS) software base with Alcatel-Lucent's virtualized router portfolio, seamless provisioning and management with the 5620 Service Aware Manager (SAM) across mixed physical and virtual routed environments, and with open APIs for Software Defined Network (SDN) control, the new 7750 SR-e platform is also cloud-ready and a key element in Alcatel-Lucent's portfolio supporting the evolution of networking to NFV and SDN.



About the Alcatel-Lucent 7750 SR-e:



--  The series includes fully-featured IP edge routers offering the same rich suite of applications for which the Service Router is known, but in a smaller form-factor. Variants include SR-1e (400Gb/s), SR-2e (800 Gb/s) and SR-3e (1.2 Tb/s). Supports GE, 10GE and 100GE interfaces.

--  The routers sit between the 7750 SR and 7750 SR-a. The SR-e series fills the demand for a lower end 100G-capable box but offers more capability than the SR-a variant.

--  The 7750 SR-e is cloud-ready and a key element supporting the evolution of networking to NFV and SDN

--  Has a unique chassis air flow design for efficient cooling and reduced fan noise while paving the way for future capacity growth. Higher capacity systems run hotter, so a future-proof thermal design is critical for continued investment protection. With these advances, the SR-e platforms have a fully NEBS-compliant design purpose-built for the most stringent central office and co-location facilities.

--  Enables a converged IP-optical network with GMPLS UNI

--  Like the rest of the Alcatel-Lucent Service Router portfolio, the 7750 SR-e leverages FP3 silicon, the highly reliable SR OS operating system, common network and service management with 5620 SAM for the Service Router and 1830 Photonic Service Switch (PSS), and multi-layer SDN control with the Network Services Platform.



Quotes



Alcatel-Lucent 7750 SR-a quote:



John M. Thompson, CTO, Indosat said: "We are using Alcatel-Lucent's 7750 SR-a platforms as aggregation and edge nodes in our mobile backhaul network. One of the key reasons we selected this platform is due to its much higher throughput, service and routing scale compared to other platforms on the market. In addition, we wanted a platform that would be LTE-ready. The compact 7750 SR-a  allows us to drive down costs and still meet our escalating traffic demands which are increasing well over 100% year-over-year."



Glen Hunt, Principal Analyst, Transport and Routing Infrastructure, Current Analysis said: "The question service providers want to know today is will my existing hardware move forward in the future with me? And the answer should be yes, especially for any hardware investments they're making now. Alcatel-Lucent has weighed this heavily into the design of its latest service router family member and is taking the right approach in expanding its portfolio. The newly announced 7750 SR-e series, in addition to the entire SR family, has the IP optical capability and works with the company's 5620 SAM and Network Services Platform.  From a future-proof, cloud-ready point of view this bodes very well for this platform."



Basil Alwan, president of Alcatel-Lucent's IP Routing and Transport business said: "We continue to evolve our IP hardware and NFV portfolio in anticipation of our customers' requirements. Our 'Network Function Optimization' approach recognizes that virtualized and integrated routing solutions will be required for different applications, and that choice will be dictated by the economics and architectural preference of each network operator. The success of our 7750 SR-a series affirms that we are on the right track and that customers will require even higher-performance, high-function, QoS-intensive IP services on specialized hardware routing platforms. With our cloud-ready 7750 SR-e series, customers have even more flexibility to strike the right balance for their network."



Key Links:



--  Product website: www.alcatel-lucent.com/products/7750-SR-e

--  Youtube video: Alcatel-Lucent 7750 SR-e video

--  Flickr: 7750 SR-e family product photo

--  SR-a product press release: Alcatel-Lucent's new compact, high-performance edge router drives down operator costs, even as data demands grow



About Alcatel-Lucent (Euronext Paris and NYSE: ALU)

Alcatel-Lucent is the leading IP networking, ultra-broadband access and cloud technology specialist. We are dedicated to making global communications more innovative, sustainable and accessible for people, businesses and governments worldwide. Our mission is to invent and deliver trusted networks to help our customers unleash their value. Every success has its network.



For more information, visit Alcatel-Lucent on: http://www.alcatel-lucent.com, read the latest posts on the Alcatel-Lucent blog http://www.alcatel-lucent.com/blog and follow the Company on Twitter: http://twitter.com/Alcatel_Lucent.



CONTACT: Alcatel-Lucent Press Contacts, WENDY ZAJACK, wendy.zajack@alcatel-lucent.com, T: +703 943 6298, SARAH MILLER, sarah.miller@alcatel-lucent.com, T: 1 613 720 9716



Web Site: http://www.alcatel-lucent.com

More from Agricultural & Farming Products