Closed-Loop Ratio Controller regulates 2-stream blending.
Press Release Summary: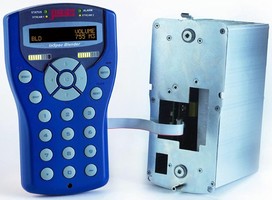 InSpec 3-term PID controller offers flexible solution for 2-stream controlled rate, or wildstream, blending and analyzer trim applications. Designed with self-tuning algorithm to optimize blending performance at fastest achievable rate, product provides user interface with operator prompting and hot keys to display key parameters or alarms. Up to 20 user-defined recipes can be configured and stored for instant recall, and recipes may also be entered on demand.
---
Original Press Release:

Controller has the Right Price and Power for 2-Stream Blending



The Jiskoot InSpec Blender Controller is a new 3-term PID controller, launched to provide a cost-effective yet powerful and flexible solution for two-stream controlled rate or 'wildstream' blending and analyzer trim applications.

Designed to optimise blending performance at the fastest achievable rate, it has a simple user interface with operator prompting and 'hot-keys' to display key parameters or alarms. A user-friendly display has 12 configurable scrolling front display items including indicators that can be configured to show any variables during the blend process.

Twenty user-defined recipes can be configured and stored for instant recall and recipes may also be entered on demand. Batch delivery optimisation includes a self-tuning algorithm to 'learn' the blender piping configuration and ensure accurate blended batch quality.

Compatible with ratio control, density trim and viscosity trim blender systems and ideal for crude or bunker fuel oil, LNG/LPG and ethanol applications plus chemical and liquid blending, the InSpec features access security and visual announcement of alarms with a hardware output.

This 'core concept' instrument is a closed loop ratio controller offered with a series of factory set or retro-activated 'options' to enhance functionality for different system types and application complexities.

These include blend trim control to optimise final product using an online analyser, direct auxiliary automated control option, external pump and valve control integration, batch quality calculations including viscosity and density, print option for batch-end reports or data-logging up to eight parameters during batching, Modbus networking for full remote access operation, recipe storage and remote panels up to 1kg away.

Blend flow can be operator entered or the controller can automatically calculate the optimum blending rate to maximize throughput. It corrects blend ratio to maintain product quality and also includes a correction for already blended product that may be 'off-spec'.

Main controller features include 'blend enable input' operating as a failsafe dead-man's handle, PC-based configuration backup and 'restore', two-tier alarms or shutdown due to ratio deviation and integration into a user's DCS.

Further information & reader enquiries: Jon Moreau, Jiskoot Ltd
Tunbridge Wells, Kent TN1 2DJ, UK. Tel: +44 (0)1892 518000. Fax: +44 (0)1892 518100 www.jiskoot.com

About Jiskoot
Jiskoot is an international market-leading supplier of custody transfer and fiscal sampling systems, in-line blending equipment and multiphase measurement solutions, predominantly in the oil and gas market. The company provides solutions ranging from simple stand-alone products to complex turnkey systems with a full performance guarantee. Jiskoot equipment performs to the highest accuracy delivering the maximum return on investment for our customers.

Over sixty percent of world crude oil is valued or handled by Jiskoot equipment and the company is ideally positioned to continue the growth programme started in 2004. The company has a strong market position as a provider of niche technical excellence to international oil companies as well as strong alliances with major contractors and suppliers. Jiskoot continues to maximise its growth potential through recent investments in IT, MRP, the latest 3-D design tools and accreditation to the 'Investor in People' programme. This enables the company to utilise its core technology, alliances with education facilities and significant Research and Development investment to deliver business growth.

The company has been a Tunbridge Wells based employer for over forty years providing continuity of employment to its workforce and a strong commitment to the local community and schools. Over ninety percent of turnover is exported and the company has received the Kent Exporter of the Year Award.

More from Fasteners & Hardware