Clock Synchronizing IC suits switch protection applications.
Press Release Summary: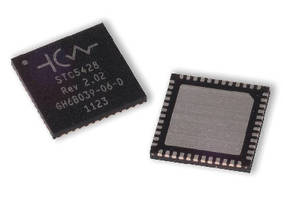 Housed in 8 x 8 mm QFN package, Model STC5428 accepts up to 12 clock reference inputs from 8 KHz to 125 MHz and generates up to 10 synchronized clock outputs from 1.0–156.25 MHz. Device features programmable phase skew at synthesizer level, phase-aligned or hit-less reference locking/switching, and programmable loop bandwidth options from 0.1–100 Hz. Programmable from SPI bus interface, RoHS-compliant IC is suited for applications in Synchronous Ethernet, PTP, and DOCSIS cable network elements.
---
Original Press Release:

Connor-Winfield Announces New Low Cost Switch Protection Synchronizing IC



Aurora, IL – The RoHS compliant STC5428 is a single chip clock synchronization solution for applications in Synchronous Ethernet, PTP and DOCSIS cable network elements. The device is fully compliant with ITU-T G.813 option 1 and 2, G.8262 EEC option 1 and 2, Telcordia GR1244 and GR253. The STC5428 provides a low cost solution for switch protection applications. The DSP-based PLL technology removes any external component except the system clock which can provide a holdover function pending the type of clock used (e.g. TCXO or OCXO).



The STC5428 accepts up to 12 clock reference inputs and generates up to 10 synchronized clock outputs at any frequency from 1.0 MHz to 156.25 MHz. The STC5428 features include programmable phase skew at synthesizer level, phase-aligned or hit-less reference locking/switching, programmable loop bandwidth options from 0.1Hz to 100Hz and master/slave operation. It is housed in a small 8x8mm 68 pin QFN package and is fully programmable from its SPI bus interface.



Features:

• 12 Reference inputs from 8KHz to 125 MHz

• 10 Synchronized "any frequency" clock outputs from 1 MHz to 156.25 MHz

• LVCMOS, LVPECL, or LVDS input/ output options

• Programmable phase skew at synthesizer level

• Supports SPI bus interface

• Phase-align or hit-less reference locking/switching

• Programmable loop bandwidth from .1Hz to 10 Hz

• Supports Master/Slave and Master/Master operation

• 3.3V operation

• Full ROHS and REACH compliance

• 8x8 mm 68 pin QFN Package



Pricing: $6 at 10K



For more information contact:

The Connor-Winfield Corporation;

Tel: 630.851.4722

www.conwin.com;

sales@conwin.com