Clock Module provides reference for networks.
Press Release Summary: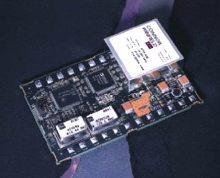 STM-S3E-3V provides backplane clock reference to line cards for use in TDM, PDH, SONET, and SDH network equipment. It meets Telecordia's GR-1244-CORE and GR-253-CORE standards for Stratum 3E clocks and timing card applications. Clock has 4 operational modes: Free Run, Hold Over, Primary Reference-In, and Secondary Reference-In. It operates at 3.3 V, and has alarms for Loss of Reference, Reference Frequency Limit, Operational Mode, Phase Build-Out, and Hold Over Good.
---
Original Press Release:

Connor Winfield's New Stratum 3E, Model STM-S3E-3V Now Operates at 3.3V


As an extension to its family of Stratum 3E timing solutions, Connor-Winfield now offers the only 3E clock module to operate from 3.3 volts. It is a complete system clock module for Stratum 3E timing card applications in accordance with GR-1244-CORE, GR-253-CORE, and G.812 Type III. The product has four operational modes: Free Run, Hold Over, Primary Reference-In, Secondary Reference-In and provides a reliable backplane clock reference to line cards for use in TDM, PDH, SONET, and SDH network equipment.

Product exclusive: The STM-S3E product family is the only product of its kind to completely conform to the strict requirements of Telecordia's GR-1244-CORE standard for Stratum 3E clocks.

The footprint of the new STM-S3E-3V is the same as the existing STM-S3, STM-S3E, and STM-S3EH modules, so it can be easily integrated into existing circuits.

Features of the new STM-S3E-3V include:
- Meets GR-1244-CORE and GR-253-CORE
- Output Frequencies: 1.544 MHz - 38.88 MHz
- 3.3V operation
- 12 ppb holdover across the full temperature range of 0 - 70°C
- Free run <±4.6 ppm
- Maximum height of .620 inches
- Alarms and indicator pins to denote: Loss of Reference, Reference Frequency Limit, Operational Mode, Phase Build-Out, Hold Over Good.
- 1 mHz Jitter/Wander filter
- Dual reference inputs with hitless switchover

Prototype quantities are available now, $680 @ 1K pieces

For more information contact Connor-Winfield Corp.
Tel: 630.851.4722
Fax: 630.851.5040
www.conwin.com
info@conwin.com

More from Sensors, Monitors & Transducers