Clock Management Fanout Buffers feature 10 differential outputs.
Press Release Summary: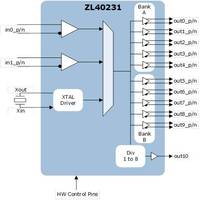 Available in four miClockBuffer™ and three miSmartBuffer™ models, Clock Management Fanout Buffers offer ultra-low additive jitter and power supply noise suppression. Offering pin compatible variants, units are suitable for communications, enterprise and data center markets applications. miClockBuffer™ features crystal input, inverted micra and high-speed crystal inputs. miSmartBuffer™ comes with software control outputs and serial port interface.
---
Original Press Release:
Microsemi Expands Broad Clock Management Fanout Buffer Product Line With Seven New Devices
High Performance Products Ideal for Communications, Enterprise and Data Center Markets
Microsemi Corporation (Nasdaq: MSCC), a leading provider of semiconductor solutions differentiated by power, security, reliability and performance, today announced four new miClockBuffer™ products and three new miSmartBuffer™ products in its portfolio of clock management fanout buffers. The ZL40230, ZL30235 and ZL30240 miSmartBuffer and ZL40231, ZL40234, ZL40241 and ZL40260 miClockBuffer devices further expand Microsemi's broad lineup of high performance products targeted to a variety of applications within the communications, data center and enterprise markets.
The ZL40231, ZL40234, ZL40241 and ZL40260 provide customers with single-ended and differential fanout buffers with hardware control pins, while the ZL40230, ZL40235 and ZL40240 additions to the miSmartBuffer lineup offer highly flexible single-ended and differential outputs (I/Os) and per output control through a serial port. The new devices augment Microsemi's product family of traditional differential buffers and miSmartBuffers to complete customers' clock trees by offering expanded options and features including up to 10 differential outputs, per output and output bank control, ultra-low additive jitter and power supply noise suppression.
"The introduction of our new miClockBuffer and miSmartBuffer devices not only expands our broad portfolio of robust clock management solutions, but also advances Microsemi's ability to secure a larger share of board real estate in these growth markets," said Maamoun Seido, vice president and business unit manager of Microsemi's timing products. "Combining the attractive new features of these products with Microsemi's miClockSynth™ clock synthesizers enables designers to create larger clock trees or simplify small clock trees, leading to significant cost savings for our communications, enterprise and data center customers."
According to a new forecast from the International Data Corporation (IDC) Worldwide Quarterly Cloud IT Infrastructure Tracker, spending on off-premises cloud IT infrastructure will experience a five-year compound annual growth rate (CAGR) of 14.2 percent, reaching $48.1 billion in 2020. Public cloud data centers will account for nearly 81 percent of this amount. Microsemi's new clock management products, as well as the entire buffer portfolio, cater to this growing demand, targeting a wide variety of applications including enterprise switches and routers, peripheral component interconnect express (PCIe), video, storage systems, storage servers, wireless base stations, wireless backhaul, access infrastructure and 1G/2.5G/10G/25G/40G/25G/100G Ethernet. The new devices are also well-suited to applications such as industrial and factory automation.
Microsemi's seven new devices offer pin compatible variants with other vendor products, ensuring ease of design and saving additional costs for customers. Additional key features of the new miClockBuffer products include:
Up to three inputs/crystal input/inverted micra/high-speed crystal
Up to 10 low-voltage positive-referenced emitter coupled logic (LVPECL)/low-voltage differential signals (LVDS)/high-speed current steering logic (HCSL)
10 low voltage complementary metal oxide semiconductor (LVCMOS) only outputs
Low skew, and ultra-low additive jitter of 30 fs RMS (12kHz to 20 mHz)
Hardware control pins
The new miSmartBuffer devices also add in features such as:
Serial port interface
Integer dividers on the LVCMOS outputs
Software control of outputs
Ultra-low additive jitter of 30 fs RMS (12kHz to 20 mHz)
Product Availability
Microsemi's ZL40230, ZL40231, ZL40234, ZL40235, ZL40240, ZL40241 and ZL40260 miClockBuffer and miSmartBuffer products are available now, with additional devices from the product family planned for release in the coming months. For more information, visit http://www.microsemi.com/products/timing-and-synchronization/clock-fan-out-buffers or contact sales.support@microsemi.com.
About Microsemi's Product Portfolio for Data Center
Microsemi is a premier supplier of innovative semiconductor, board, system, software and services for enterprise and hyperscale data centers, enabling high performance, secure, low power and reliable infrastructure for scalable deployments. Microsemi technologies drive innovation in applications including storage systems, server storage, NVM solutions, Ethernet switching, rack scale architecture, data center interconnect, network timing and power subsystems. Building on a track record of technology leadership, Microsemi's data center infrastructure portfolio is transforming networks that connect, store and move big data, while lowering the total cost of ownership of deploying next generation services.
The portfolio includes high performance NVMe storage controllers, NVRAM drives, SAS/SATA host bus adapters and RAID controllers enabling high capacity storage architectures, high density PCIe switching and firmware for rack scale architectures, PCIe re-drivers, and Ethernet PHYs for intra-rack connectivity. Microsemi's product portfolio also includes clock and power management, IEEE1588 integrated circuits (ICs) and NTP servers for synchronization across the data center, as well as field programmable gate arrays (FPGAs) and system-on-chip (SoC) FPGAs to perform secure system management of servers and storage. For more information, visit http://www.microsemi.com/applications/data-center.
About Microsemi's Product Portfolio for Communications
Microsemi is a premier supplier of semiconductor, system and services differentiated by performance, power reliability and security. Microsemi enables customers to build solutions in a range of applications including Ethernet switches, 100G Ethernet and optical transport network (OTN), cellular infrastructure including LTE-Advanced and 5G, small cells, microwave and millimeter wave systems, Wi-Fi access points, XGS PON or NGPON2 based converged wireline access, broadband gateways including fiber/PON, G.fast and DOCSIS3.1, and home/on-premise security/surveillance. Microsemi's communications portfolio includes high accuracy timing and synchronization including IEEE1588 PTP and NTP servers, software and components; low jitter PLL and high fan-out buffers, enterprise and carrier Ethernet switches and PHYs, voice and audio intelligence including AEC and ASR, lowest power FPGAs with high security and reliability; PCI Express Switches, OTN PHYs and processors, optical drivers, integrated Wi-Fi front-end modules (FEM) and power-efficient and multi-standard Power-over-Ethernet (PoE) ICs and systems, and G.hn, G.fast and xDSL line drivers. For more information, visit http://www.microsemi.com/applications/communications.
About Microsemi
Microsemi Corporation (Nasdaq: MSCC) offers a comprehensive portfolio of semiconductor and system solutions for aerospace & defense, communications, data center and industrial markets. Products include high-performance and radiation-hardened analog mixed-signal integrated circuits, FPGAs, SoCs and ASICs; power management products; timing and synchronization devices and precise time solutions, setting the world's standard for time; voice processing devices; RF solutions; discrete components; enterprise storage and communication solutions, security technologies and scalable anti-tamper products; Ethernet solutions; Power-over-Ethernet ICs and midspans; as well as custom design capabilities and services. Microsemi is headquartered in Aliso Viejo, California, and has approximately 4,800 employees globally. Learn more at www.microsemi.com.
View original content with multimedia:http://www.prnewswire.com/news-releases/microsemi-expands-broad-clock-management-fanout-buffer-product-line-with-seven-new-devices-300485830.html
Contact:
Farhad Mafie
VP Worldwide Product Marketing
949-356-2399
Beth P. Quezada
Director, Corporate Communications
949-380-6102
Web Site: http://www.microsemi.com
More from Agricultural & Farming Products