Clock Generators suit high-speed networking applications.
Press Release Summary: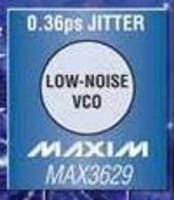 Models MAX3627 and MAX3629 utilize low-noise XO and PLL architecture to generate high-frequency (312.5 MHz), low-jitter (0.14 psecRMS) clock signals from 25 MHz crystal or reference clock input. While MAX3627 offers 7 LVDS outputs and one LVCMOS output, MAX3629 has 5 LVDS outputs and 3 LVCMOS outputs. Both simultaneously generate 2 pin-selectable frequencies for Ethernet port clocking and MAC clocking, eliminating need for high-frequency oscillator and fanout buffer.
---
Original Press Release:

Multiple-Output Clock Generators Exceed All Ethernet Data-Communication System Requirements



Clock generators with multiple outputs generate all Ethernet frequencies.

SUNNYVALE, CA-August 3, 2009-Maxim Integrated Products (NASDAQ: MXIM) introduces the MAX3627/MAX3629 low-jitter clock generators for high-speed networking applications. The MAX3627 has seven LVDS outputs and one LVCMOS output, while the MAX3629 has five LVDS outputs and three LVCMOS outputs. These devices utilize a low-noise crystal oscillator and PLL architecture to generate high-frequency (312.5MHz), ultra-low-jitter (0.14psRMS) clock signals from a 25MHz crystal or reference clock input. The MAX3627/MAX3629 simultaneously generate two pin-selectable frequencies for both Ethernet port clocking and MAC clocking. This function eliminates the need for an expensive high-frequency oscillator and a fanout buffer, thus saving board space and cost. With excellent power-supply noise rejection (PSNR), both the MAX3627 and MAX3629 minimize jitter degradation in noisy power-supply environments, thus minimizing overall jitter degradation for increased quality of system timing design-this too saves board space and cost. The MAX3627/MAX3629 are ideal for Ethernet interface applications, such as enterprise switches and routers, and other high-speed data-communication systems that require a low-jitter Ethernet frequency.

Both devices are fully specified over the 0°C to +70°C commercial temperature range, and operate from a 3.3V ±5% power supply. They are available in lead-free, 32-pin TQFN packages with prices starting at $8.80 (1000-up, FOB USA).

Maxim Integrated Products is a publicly traded company that designs, manufactures, and sells high-performance semiconductor products. The Company reported revenue in excess of $2 billion for fiscal 2008. Maxim was founded over 25 years ago with the mission to deliver innovative analog and mixed-signal engineering solutions that add value to its customers' products. To date, it has developed over 6000 products serving the industrial, communications, consumer, and computing markets. For more information, go to www.maxim-ic.com.

Customer Service: 1-800-998-8800

More from Transportation Industry Products