Clock Generators provides ultra-low jitter of 100 fsec.
Press Release Summary: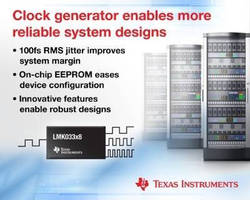 Supplied in 7 x 7 mm QFN package, LMK033x8 promotes telecommunications infrastructure equipment reliability. Up to 2 PLLatinum™ fractional-N PLLs with 8 outputs enable jitter performance of 100 fsec RMS over multiple integration bandwidths (1 KHz to 5 MHz and 12 KHz to 20 MHz). Pin-mode control feature enables designers to select from 71 pre-programmed frequency startup plans. While integrated EEPROM facilitates customization, I²C interface gives designers control of device configuration.
---
Original Press Release:

TI Introduces Ultra-Low-Jitter Clock Generators to Enable More Reliable Telecommunications Infrastructure Equipment



Designers can optimize system performance, simplify device configuration and reduce design cycle time



DALLAS – Texas Instruments (TI) (NASDAQ: TXN) today introduced a new family of clock generators that provides ultra-low jitter of 100 femtoseconds (fs) and flexible, unique pin control options. Compared to conventional reference clock solutions, the new clock generators' jitter performance enables system designers to optimize system timing margins and bit error rate (BER) to reduce data transmission errors. This allows for more reliable communications, networking, server, computing, and high-performance industrial equipment. LMK033x8 clock generators also offer versatile features to reduce design cycle time by facilitating easy prototype design and evaluation. For more information, see www.ti.com/lmk033xx-pr.



Key features and benefits of LMK033x8 clock generators



--  Ultra-low jitter performance enables flexible jitter budgeting: Up to two high-performance PLLatinum™ fractional-N phase-locked loops (PLLs) with eight outputs enable ultra-low jitter performance of 100 fs root mean square (RMS) over multiple integration bandwidths (1 KHz-5 MHz and 12 KHz-20 MHz). Designers can take advantage of the ultra-low jitter to improve their system BER and increase the reliability of their telecommunications infrastructure equipment.

--  Flexible, simple configuration: A unique pin-mode control feature enables designers to easily select from 71 pre-programmed frequency startup plans compared to one-time programmable memory offered by competitors. Integrated electrically erasable programmable read-only memory (EEPROM) enables easy customization, while the I(2)C interface gives system designers complete control of device configuration.

--  Reduced design cycle time: Glitchless fine/coarse frequency margining enables designers to simplify the stress and compliance testing of their systems during design verification and process verification (DVT/PVT) of prototypes.

--  Immune to supply noise: Integrated low-dropout regulators (LDOs) provide immunity to power-supply noise without requiring complex filter designs.



Tools and support to speed design

Evaluation modules (EVMs) enable designers to quickly and easily evaluate the devices. The LMK03328EVM is available today, and the LMK03318EVM will be available in 4Q 2015 from the TI store and authorized distributors for US$299.



TI's WEBENCH® Clock Architect tool simplifies the design process for the LMK033x8 family, as well as for other TI clock and timing devices. The tool can recommend a single- or multiple-device clock-tree solution from a broad database of devices to meet system requirements. It features PLL filter design, phase-noise simulation, and the ability for designers to optimize clock-tree designs for their performance and cost requirements.



Support is available in the TI E2E™ Community Clock and Timing forum, where engineers can search for solutions, get help, share knowledge, and solve problems with fellow engineers and TI experts.



Package, availability and pricing

LMK033x8 clock generators come in a 7-mm-by-7-mm quad-flat no-lead (QFN) package. The LMK03328 dual-PLL eight-output clock generator is available today and priced at US$10.00 in 1,000-unit quantities (1ku). The LMK03318 single-PLL eight-output clock generator will be available in 4Q 2015 and will be priced at $7.50 in 1ku.



These clock generators are the newest members of TI's clock and timing portfolio, including LMK03806 and CDCM6208 clock generators, which also offer high performance and flexibility. TI offers a broad timing portfolio that also includes ultra-low-additive jitter fan-out buffers like the LMK00301 universal differential buffer and the LMK00338 PCI Express Gen-3-compliant high-speed current steering logic (HCSL) buffer, which complement the LMK03328 and LMK03318.



Learn more about TI's clock and timing portfolio

--  Read our blog posts about clock and timing.

--  View an LMK033x8 demonstration video.

--  Read TI's application note, "Clocking high-speed serial links using LMK03328."

--  Read TI's application note, "Frequency margining using TI's high-performance clock generators."



About WEBENCH tools from Texas Instruments

The WEBENCH Designer and Architect tools allow engineers to easily create, simulate and export custom designs. The component libraries include more than 40,000 components from 120 manufacturers. The tools are offered in eight languages and price and availability are updated hourly by TI's distribution partners for design optimization and production planning. To start a cost-free design, visit TI's WEBENCH design environment at www.ti.com/webench.



About Texas Instruments

Texas Instruments Incorporated (TI) is a global semiconductor design and manufacturing company that develops analog integrated circuits and embedded processors. By employing the world's brightest minds, TI creates innovations that shape the future of technology. TI is helping more than 100,000 customers transform the future, today. Learn more at www.ti.com.



Trademarks

WEBENCH is a registered trademark, and PLLatinum and TI E2E are trademarks of Texas Instruments. All other trademarks and registered trademarks belong to their respective owners.



CONTACT:

Marion Clary

Texas Instruments

669-721-5092

 marion.clary@ti.com



Tara Stratton

Golin

972-341-2562

tstratton@golin.com



Web Site: http://www.ti.com



More from Explosives, Armaments, and Weaponry