Clock Generator survives temperatures to 225°C.
Press Release Summary: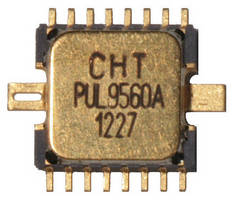 Suitable for building clock modules and frequency-based transducers, CHT-CG50LP provides reliable precision throughout -55 to +225°C range, and for 3.0–5.0 V supply voltages, up to 50 MHz. Circuit uses external crystal, and oscillator will always start up, regardless of conditions. Circuit also supports 32 kHz crystals for real-time clock generation needs. Other features include built-in frequency divider, selectable from 1–512; enable/disable control signal; and external clock input.
---
Original Press Release:

CISSOID Introduces CHT-CG50LP, High Temperature, Extended Lifetime Clock Generator



Mont-Saint-Guibert, Belgium – CISSOID, the leader in high-temperature and extended lifetime semiconductor solutions, introduces CHT-CG50LP, a versatile clock generator suitable for building clock modules and frequency-based transducers for the industrial market as well as for high-reliability applications in the Oil & Gas, aerospace and defence markets. Using an external  crystal,  the circuit has been designed  to  provide  reliable precision  and performance  throughout  the  -55°C /  +225°C  temperature  range, and  for  supply voltages between 3.0V and 5.0V, up to 50MHz frequency. Its robustness guarantees the oscillator will always start-up, no matter what the conditions are. The circuit also supports 32kHz crystals for real-time clock generation needs.



This product is the second generation of CISSOID's clock generators. It combines the same unrivalled robustness of its former generation device CG50, while bringing additional features, reduced current consumption and lower pin count. The CHT-CG50LP IC features a built-in frequency divider selectable from 1 to 512, an enable/disable control signal and an external clock input. The output driver capability is programmable (8/16mA) as well as the crystal driver strength.



Etienne Vanzieleghem, CISSOID VP of Engineering explained: "A strong request from our customers was to offer a reduced pin count solution and a default configuration with very few wire-bond connections in view of shrinking clock module implementations". With only eight connected pins in its minimal configuration, CHT-CG50LP is fully in line with such requirements. "In addition, the circuit has been designed with 40% reduction of the current consumption" said Mr Vanzieleghem.



This second generation of clock generator confirms CISSOID's commitment to the high reliability market for oil & gas, industrial, aerospace and automotive applications. CG50LP offers a robust and cost effective solution for industrial applications, where high temperature is not necessarily needed, but decades lifetime is a must, which cannot otherwise be achieved with traditional semiconductors.



The CHT- CG50LP datasheet is available now from the CISSOID web site (Link to datasheet). CHT- CG50LP can be ordered now for sampling and evaluation in TDFP16 package under the part number CHT-PUL9560A-TDFP16-T. Pricing starts at $158.36/unit up to 200 units.  For production volumes in die form, CHT-CG50LP is priced below $8/unit.  For more information, visit www.cissoid.com or contact the company's representatives at www.cissoid.com/company/about-us/contacts.html.



About Cissoid - www.cissoid.com

CISSOID is the leader in high temperature semiconductor solutions, delivering standard products and custom solutions for power management, power conversion and signal conditioning in extreme temperature and harsh environments. CISSOID provides high reliability products guaranteed from -55°C to +225°C and commonly used outside that range, from cryogenic lows to upper extremes.



Whether the ambient temperature is low but the power dissipation heats up the chips, or in high temperature environments, CISSOID products enable energy, weight and cost savings in lighter, cooling-free and more compact electronic systems. They are used in mission-critical systems as well as in applications requiring long term reliability. CISSOID supplies leaders in the Oil&Gas, Aeronautics, Industrial and Automotive markets.



Press Contact:

Jean-Christophe Doucet

E-mail : doucet@cissoid.com

Tel. : +32 10 48 92 10

More from Agricultural & Farming Products