Clock Buffers offer low additive rms jitter of 30 fs.
Press Release Summary: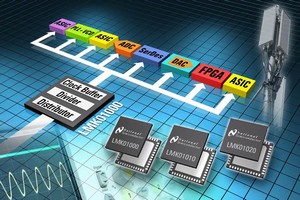 Available in 3 output configurations, PowerWise LMK010x0 clock buffers, dividers, and distributors provide 1.6 GHz operation. Available in 48-pin LLP® packages, devices have 2 separate clock inputs with user programmable mux for selection between 2 different clock domains. Model LMK01000 offers 8.9 mW-ps per channel and 3 LVDS and 5 LVPECL outputs, while LMK01010 and LMK01020 are rated at 5.3 and 11.2 mW-ps per channel with 8 LVDS and 8 LVPECL outputs, respectively.
---
Original Press Release:

National Semiconductor's 1.6 GHz Clocking Family Provides Industry's Best Noise Performance



PowerWise LMK010x0 Family Simplifies System Design with Low Additive Jitter

SANTA CLARA, Calif. - March 27, 2008 - National Semiconductor Corp. (NYSE: NSM) today introduced a family of three ultra low-noise and fully-featured clock buffers, dividers and distributors that simplify system clock design while providing the industry's lowest additive noise - 30 femtoseconds (fs) of additive root means square (RMS) jitter. The high-performance LMK01000, LMK01010 and LMK01020 divide and distribute low-jitter clocks throughout high-performance systems such as wireless infrastructure, test and measurement, and medical ultrasound and imaging.

National offers the LMK010x0 family in three output configurations: The LMK01000 has a mix of three low-voltage differential signaling (LVDS) and five low-voltage positive-emitter-coupled logic (LVPECL) outputs; the LMK01010 is offered with eight LVDS outputs to address low-power applications; and the LMK01020 has eight LVPECL outputs to support ultra high-performance applications. All three products provide power-noise specifications that place them among National's PowerWise® family of energy-efficient products. The LMK01000 offers 8.9 mW-ps per channel, while the LMK01010 is rated at 5.3 mW-ps per channel and the LMK01020 at 11.2 mW-ps per channel.

The devices' low additive jitter allows system designers to distribute multiple copies of a clean clock (while maintaining clock integrity) and eliminates the need for additional jitter cleaning components. Each device's output offers a programmable skew control circuit that simplifies board layout, enabling the designer to adjust the skew of each clock output and compensate for board trace mismatch.

Part of Highly Integrated Clock Family
The LMK01000, LMK01010 and LMK01020 ultra low-noise clock buffers, dividers and distributors are pin and footprint compatible with National's LMK02000 and LMK03000 family of precision clock conditioners. They join the recently released LMK03000D and LMK03001D low jitter (1.2 ps RMS) precision clock conditioners aimed at high-performance applications. National's precision clock conditioner family is available in four pin-compatible performance grades, allowing flexible system design using one PC board layout.

Key Technical Features - Clock Buffers, Dividers, and Distributors The LMK01000, LMK01010 and LMK01020 ultra low-noise clock buffers, dividers and distributors provide 1.6 GHz operation with low additive RMS jitter of 30 fs. Each individual clock output features an independently programmable divider and skew control circuit. These features allow the distribution of eight unique frequencies at eight unique skew relationships. The output of the dividers can be synchronized by an external pin.

The LMK010x0 family of devices has two separate clock inputs with a user programmable mux for selection between two different clock domains. National offers these devices in 48-pin LLP® packages.

National fabricates these products on its proprietary BiCMOS8 process technology in its South Portland, Maine, facility. This state-of-the-art silicon germanium process enables the devices to achieve the lowest jitter and power performance in the industry.

About National's Interface Portfolio
National Semiconductor, the LVDS and CML technology innovator and market leader, offers a wide range of interconnect solutions that transfer high-speed digital signals using world-class analog technology. These solutions help system designers develop high-performance applications in a variety of markets, including communication and industrial systems. The products feature high reliability, low power and low noise, as well as dramatic systems savings in cable and connector costs. National Semiconductor is the world's largest supplier of high-speed LVDS products, according to Databean's 2006 Analog IC Market Share survey. For more information on National's interface products, visit www.national.com/appinfo/interface/.

Pricing and Availability
Available now, the LMK01000, LMK01010 and LMK01020 are priced at $7.25 each in 1,000-unit quantities. For more information on these clock buffers, dividers and distributors, or to order samples and an evaluation board, visit www.national.com/pf/LM/LMK01000.html, www.national.com/pf/LM/LMK01010.html, and www.national.com/pf/LM/LMK01020.html.

National's clock design tool simplifies design, analysis and parts selection for a wide variety of applications. To explore this new design tool, visit www.national.com/timing.

About National Semiconductor
National Semiconductor, the industry's premier analog company, creates high-value analog devices and subsystems. National's leading-edge products include power management circuits, display drivers, audio and operational amplifiers, interface products and data conversion solutions. National's key analog markets include wireless handsets, displays, communications infrastructure, medical, automotive, industrial, and test and measurement applications. Headquartered in Santa Clara, Calif., National reported sales of $1.93 billion for fiscal 2007, which ended May 27, 2007.

Additional company and product information is available at www.national.com.

Company Name: National Semiconductor
Address 1: 3689 Kifer Road
Address 2: M/S G1-124
City: Santa Clara
State: CA
Zip: 95051
Phone: 408-721-6929

URL: www.national.com

Contact Name: Mark Alden
Title: Public Relations Manager
E-mail: mark.alden@nsc.com

More from Transportation Industry Products