Clips and Clamps meet high-amperage requirements.
Press Release Summary: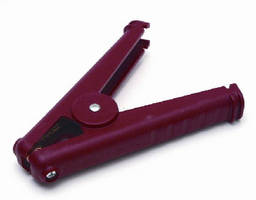 Available in black or red with heavy-duty, glass-filled polyamide handle and glass-filled nylon body, High-Amperage Clips include 300 A battery Model BU102B and kelvinized Model BU102BK as well as 400 A Model BU102W for grounding of welding equipment during operation. BU-102B clips feature serrated jaws, created from stamped 100% copperplate, while BU-102W jaws are machined from 100% copper slugs with serrated teeth. Each bus bar within clips ensures effective heat dissipation.
---
Original Press Release:

Mueller Electric Company Announces High-Amperage Battery, Kelvinized and Welding Clips and Clamps



Akron, Ohio, USA - Mueller Electric Company, Inc. (www.muellerelectric.com) (Mueller Electric), a global designer and manufacturer of test leads, cables, clips, connectors, custom cable assemblies and accessories, has announced its complete range of battery, kelvinized and welding clips and clamps for high-amperage (up to 400 amps) requirements.



The rugged design of Mueller Electric high-amperage clips incorporates a heavy duty, glass-filled polyamide handle. This makes the clips virtually indestructible. A high-impact glass filled nylon clip body also offers a cleaner aesthetic. Each bus bar within Mueller Electric high-amperage clips has been carefully designed and field-tested to ensure quick and effective heat dissipation. The BU-102B clips feature serrated jaws, created from stamped 100% copperplate and the BU-102W welding jaws are machined from 100% copper slugs with serrated teeth, ensuring their reliability within welding applications. The clips have been tumble tested to withstand thousands of cycles. For added customer convenience, copper battery jaws are fully interchangeable and field replaceable. This eliminates the need to discard the entire clip after extended wear or field use.



Available in either black or red, Mueller Electric high-amperage models are offered as either the BU102B, a 300 amp rated clip; or as BU102BK, a kelvinized clip.  A third version, the BU102W, is rated for 400 amps and is designed specifically for the safe grounding of welding equipment during operation. Other applications for these products include electrical power line, power grid, marine, avionics, automotive and aerospace including welding applications.



With more than 105 years of successful market innovation in cables, connectors and clamps, Mueller Electric has its industry origins as the inventor of the "Alligator Clip", a must-have for electrical test requirements. The company has since expanded its product portfolio, both organically and via acquisition (i.e., J.S. Popper, Crane Connectors) into additional types of electrical testing clips, test leads, test accessories, board-to-board connectors, and custom cable assemblies. All product technologies are sold either directly to qualifying manufacturers, or through some of the industry's leading authorized distributors, including Allied Electronics, Digi-Key Corporation, McMaster, Newark, Carlton Bates, RS Components and Selecta Products. 



For more information about high-amperage products available from Mueller Electric, visit www.muellerelectric.com.



Price: Starting at $10.00 USD per clip

Product Page:  http://muellerelectric.com/?s=BU-102&post_type=product



More from Fluid & Gas Flow Equipment