Cliplight Rebrands its HVAC/R Leak Sealant, Moisture Eliminator and Dye Product Line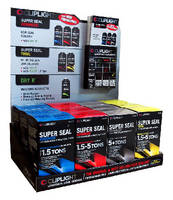 Rebranding includes introduction of Super Seal Advanced as replacement for Super Seal Classic leak detection sealant.

Cliplight Mfg., Toronto, the pioneer of HVAC/R system leak detection and repair with more than one million sealant applications worldwide, has rebranded and redesigned packaging for its product line of refrigeration sealants, moisture eliminators and dyes.

The rebranding features an updated Cliplight logo and packaging with product identifying color-coded swirls and cutting-edge graphics on a black background. "All companies periodically modernize their branding and now Cliplight's rebranding will accentuate our efforts to market our new Super Seal Advanced as well as our existing products, Dry R(TM) moisture eliminator, Flash(TM) dye and Super Seal Total(TM)," said Linda Appler, director of marketing, Cliplight.

The graphics appear both on Cliplight's patented vacuum-packed can and its box packaging, which sports a Quick Response (QR) code for smart phone scanning navigation to www.cliplight.com where product and installation instruction details beyond packaging descriptions are posted. Application instructions in English, Spanish and French for the Made-in-the-USA products are also enclosed.

As part of the rebranding, the company has also introduced Super Seal Advanced(TM), which is now supplanting Cliplight's original sealant Super Seal Classic brand. Super Seal Advanced combines Dry R and an enhanced Super Seal Classic formula, which is a particle-free liquid that flows compatibly with the refrigerant and oil. Since its introduction in 2003, Super Seal Classic, the first sealant developed specifically for the HVAC industry and to ARI-700 purity standards, has successfully sealed over one million refrigeration applications ranging from large chillers and commercial foodservice equipment down to smaller systems such as residential central a/c and consumer refrigerators.

The addition of Dry R, which eliminates 20-drops of unwanted system water, combined with the new easy Quick 7-Step instructions on the back of every can, reverses the need for time-consuming system recovery, pump-downs and other preparations required by competing sealant brands to eliminate moisture. Moisture potentially leads to acid, waxing and reduced sealing performance. Super Seal's patented vacuum-packed can with a relief valve makes it safe and easy to apply directly to R-410A systems' low side without pump-downs.

The rebranding is expected to be completely rolled out and supplant previous product packaging at all major HVAC/R distributors during summer 2012.

For more information on Cliplight Mfg., an ISO 9001:2000 certified manufacturer and its HVAC and refrigeration products, please email research@cliplight.com, call 1-866-548-3644, visit www.cliplight.com or Facebook.

More from Laboratory and Research Supplies and Equipment