Cliplight Mfg. Reclassifies Super Seal Line of AC/R Leak Sealants as Super Seal "Classic"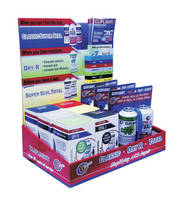 Reclassification distinguishes between original Super Seal for reactive leak repair & Super Seal Total for proactive leak prevention.

Cliplight Mfg., Toronto, a leading HVAC/R aftermarket products manufacturer and pioneer in refrigerant leak sealant technology, has distinguished its original Super Seal air conditioning/refrigeration (AC/R) system reactive leak repair sealant, as Super Seal "Classic" to differentiate it from Super Seal Total, a preventative leak product that combines a sealant, drying agent, and UV dye tracer.

The Classic line of Super Seal - Commercial Super Seal (one three-ounce can for systems over 5 tons); HVACR Super Seal (one three-ounce can for systems between 1.5 and 5 tons); and ACR Super Seal (one one-ounce can for systems under 1.5 tons);-is formulated for repairing a known pre-existing system leak. Since the introduction of Cliplight's original Super Seal in 1999, more than 1 million successful applications have been made worldwide.

On the contrary, Super Seal Total 1 (for systems up to 5 tons) and Super Seal Total 2 (for systems over 5 tons) have only a preventative maintenance dose of Classic sealant, Cliplight's Dry R(TM) drying agent and Flash(TM) UV tracer dye in a single can. If a technician discovers a Super Seal Total system low on refrigerant, the micro leak may already have been sealed, or in instances where the exit hole is too large, the UV dye has already highlighted the problem area(s) and saved valuable diagnostic time.

"The introduction of Super Seal Total 1 & 2 is not a replacement or improvement of the original Super Seal, but rather a preventative maintenance product designed for micro leak prevention and leak detection all in a one can application," said Linda Appler, director of marketing, Cliplight Mfg.

All Super Seal Classic and Super Seal Total products continue to be packaged in Cliplight's patented vacuum-packed cans that use the system's refrigerant as a propellant, versus the potentially contaminating and flammable hydrocarbon propellant methods of other sealants. A free "one-time-use" charging hose is included with every can.

o Super Seal Classic is a reactive product that's applied to systems when a refrigerant leak can't be located or is inaccessible for conventional repairs.

o Super Seal Total is a proactive preventative maintenance product that includes Dry-R stabilizer/drying agent for small amounts of system moisture, a small dose of Super Seal Classic for potential leaks, and also an UV dye to trace and diagnose future leak points. Super Seal Total is perfect after a conventional repair to reduce callbacks and is ideal for contractors specializing in service warranty contracts.

For more information on Cliplight Mfg., an ISO 9001:2000 certified manufacturer and its HVAC and refrigeration products, please email hvacr@cliplight.com, call 1-866-548-3644 or visit www.cliplight.com.