Cleatech is Now Manufacturing Custom Desiccator Cabinets & Dry Boxes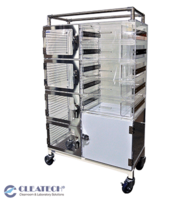 Can't find the right size desiccator cabinet for your lab? Cleatech is now taking orders for custom desiccator cabinets & dry boxes. Our cabinets are built with high-quality and durable material to meet your custom specifications. Listed below you will find a few of our custom desiccators.
Visit our website to view custom samples or to request a custom quote.
Mobile Desiccator with Kitting Storage
Specifications
Dimensions 35″W x 16″D x 60″H (including stand & rail)
Clear Acrylic Construction
Powder Coated Steel Mobile Stand
Includes a Four-Chamber Desiccator Cabinet
Plenum Chamber for Nitrogen Purging
Wire Racks and Adjustable Height Shelving
Polypropylene Chemical Storage Cabinets
Five Sliding Drawers with Optional Parts Divider
Top Stainless Steel Guard Rail
Desiccator Cart with Sliding Drawers
Specifications
Dimensions: 48″W x 16″D x 45″H
Clear Acrylic Construction
Four-Chamber Desiccator Cabinet
Plenum Chamber for Nitrogen Purging
Wire Racks and Adjustable Height Shelving
Includes Seven Sliding Drawers
Powder Coated Steel Stand with Casters and Leveling Mounts
1/2″ Thick Top Surface for Optical Breadboard
Extra Large Vacuum Desiccator Cabinet
Specifications
Inside Dimensions: 39 3/8″W x 15 3/4″D x 24″H
1″ Thick Clear Acrylic Construction
Two Front Hinged Doors Open Side-by-Side
Two Permanent Shelving
Vacuum Gauge 0 to 30 In. Hg
Two Valves with 3/8″ ID Barbed Fittings
Support Minimum Vacuum Level of 29″ Hg
Available with Vacuum Pump and Automatic Vacuum Controller
Multi-Chamber Small Parts Desiccator
Specifications
3/8″ Thick Clear Acrylic Construction
Stackable Modules
Small Isolated Compartments with Flush Opening
Compartments with Individual Door to Minimize Exposure and Fast Recovery
Face-Mount Lever Latch
Airtight Door Sealing
Optional Inert Gas Ports