ClearCube Introduces CD5012/14 ZERO+ Client with Virus-Proof No-App Firmware
Press Release Summary: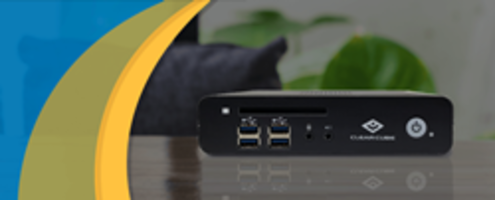 Features PKI-approved CAC reader, copper-optic network connectivity and multiple remote connection protocol support
The CAC supports 5V, 3V, and 1.8V smart cards for improving user-to-network and user-to-application authentication in applications such as military, defense and government sectors
Offered with AMD® GX-215JJ dual-core SoC that provide multimedia and 4K graphics for accommodating high-end use cases
---
Original Press Release:
ClearCube Announces CD5012/14 ZERO+ Client with CAC Reader and Copper Connectivity
CD5012/14 ZERO+ Client improves traditional Zero Client security and support for multiple remote connection protocols
CEDAR PARK, TEXAS (PRWEB) APRIL 30, 2019 - ClearCube® Technology, Inc. today announced the release of a new small-footprint, compact form-factor ZERO+ Client with robust data security features for connectivity to virtualized, centralized or web-based infrastructures. The CD5012/14 delivers the benefits of our Zero Clients through firmware and hardware implementations that boost information security, while providing ultra HD graphics in VDI deployments. Boasting PC features which offer increased flexibility, the CD5014 comes with an integrated PKI-approved CAC reader, copper-optic network connectivity, virus-proof no-app firmware, and support for multiple remote connection protocols.
The Common Access Card (CAC) reader supports 5V, 3V, and 1.8V smart cards for improved user-to-network and user-to-application authentication in the defense, military, and governments sectors. These benefits can also be realized in applications where data security is paramount for users to be able to manage time and mission critical assignments. "As of today, some of our competitors are no longer offering Zero Clients. We are always fine-tuning our designs to offer unrivaled security and performance features and till date, we offer the widest selection of Zero Client solutions in the market with over twenty-one different options," said Doug Layne, VP of Global Sales at ClearCube Technology. "The CD5012/14 ZERO+ clients are a valuable addition to our range of endpoint devices as they offer the flexibility of thin clients and the convenience and security of zero clients," he said.
CD5012/14 functionalities fulfill the requirements of task and knowledge users in virtual desktop deployments. Using the Radeon R2E graphics core with two compute units, the AMD® GX-215JJ (1.5–2.0 GHz) dual-core SoC (System on Chip) offers dynamic multimedia and 4K graphics to accommodate high-end use cases. Employees can also utilize up to two 1920 × 1200 full-motion video displays, dual static 2560x1600 displays or a single static display up to 4K resolution. An optional WLAN module allows workers to make the most of their systems even when they are installed in areas that lack LAN connectivity.
The CD5012/14 uses ClearCube's Cloud Desktop firmware which simplifies ZERO+ Client deployments and minimizes the risks and complexities of transitioning to virtualization. This firmware allows IT departments to centrally manage the CD5012/14 which can connect to hosted desktops, cloud-hosted desktops, and centrally hosted applications out of the box. Administrators can use the Cloud Desktop at every stage of the VDI implementation process- from repurposing existing hardware devices as Thin Client terminals, to powering ZERO+ Client endpoints. Embedded, non-removable eMMC flash memory soldered directly to the CD5012/14 device's printed circuit board further enhances information and firmware security.
Businesses can control, configure, monitor, and update the CD5012/14 from a single location with Cloud Desktop Management, our browser-based administration tool. It helps take the strain off managing devices on the corporate network through network booting for eliminating local storage, real-time monitoring, asset management, job scheduling, and peripheral inventory.
> Download CD5012/14 ZERO+ Client Datasheet
For more information, contact ClearCube Technology at http://www.clearcube.com
ClearCube Technology on Social Media: 
Twitter: https://twitter.com/clearcubetech 
Facebook: http://www.facebook.com/clearcubetech/ 
LinkedIn: http://www.linkedin.com/company/clearcube-technology/
About ClearCube Technology 
ClearCube Technology, an American manufacturer, is a recognized technology leader in centralized computing and desktop virtualization markets. ClearCube develops specialized thin and zero clients that connect to VDI host platforms and PCoIP Blade PCs for power and highly-specialized users. Endpoints include Raspberry Pi thin clients, x86-based thin clients in a variety of configurations, ZERO+ clients, TEMPEST zero clients, and multi-level-security zero clients. ClearCube has developed and deployed thousands of high-performance remote workstations that power trading floors, network operations centers, and command and control rooms around the globe. ClearCube's widespread adoption at thousands of federal and commercial locations is based on our ability to meet cost savings and security requirements for use cases involving centralization and virtualization initiatives.
Contact Information
Doug Layne
ClearCube Technology
http://www.clearcube.com
5126523500
More from Software