Clear Rigid PVC Compound suits outdoor tubing applications.
Press Release Summary: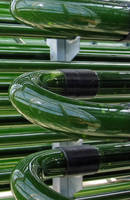 Rigid vinyl compound, Apex® RE 9118A, provides clarity for photobioreactor and other outdoor tubing while also offering high gloss and toughness for weatherable profile applications. With less than 15% haze, transparent compound features UV-blocking formulation that reduces harmful effects of UV radiation on PVC while permitting passage of wavelengths essential in processes such as algae farming for biofuel and other applications.
---
Original Press Release:

Clear Rigid PVC Compound Resists UV in Outdoor Tubing Applications Such as Algae Farming and Biofuel Production



Apex® RE 9118A from Teknor Apex Also Provides High Gloss for Outdoor Profiles



PAWTUCKET, RI, U.S.A.: A new rigid vinyl compound with a specially developed UV-blocking formulation provides clarity for photobioreactor and other outdoor tubing, along with high gloss and toughness for weatherable profile applications, it was announced today by Teknor Apex Company.   



Apex® RE 9118A is a transparent compound with less than 15% haze. The UV-blocking formulation substantially reduces the harmful effects of ultraviolet radiation on the PVC while permitting passage of wavelengths that are essential in processes like algae farming for biofuel and other applications. The tensile, flexural, and impact properties of the compound are comparable to those of standard general-purpose rigid vinyl.



The new material is the only one available from a diversified PVC compounder that combines good clarity and high resistance to UV, said Michael J. Renzi, business development manager for the Vinyl Division of Teknor Apex.



"By virtue of its lower cost, lighter weight, and greater resistance to breakage, rigid vinyl provides a superior cost-performance alternative to the glass piping used in 'green energy' applications, as well as to high-cost engineered thermoplastics such as polycarbonate," said Mr. Renzi. "Our PVC compound withstands continued exposure to sunlight while allowing passage of energy needed for bioprocessing and enabling technicians to monitor the status of their systems."



The VINYL DIVISION of Teknor Apex Company is a leading manufacturer of compounds based on PVC, including ApexÒ flexible and rigid vinyl, FlexalloyÒ vinyl elastomers, and FireguardÒ low-flame, low-smoke compounds for wire and cable.  Headquartered in Pawtucket, Rhode Island, U.S.A., the Division is an international supplier to the appliance, automotive, construction, medical device, wire and cable, and other industries. Parent company Teknor Apex operates manufacturing facilities around the world and sells in 90 countries. Six of the company's business units focus on plastics compounding, including bioplastics; color concentrates; nylon; thermoplastic elastomers; toll and specialty compounds; and vinyl. Visit www.teknorapex.com.



READER INQUIRY INFORMATION:  Address all mail inquiries to Teknor Apex, 505 Central Avenue, Pawtucket, RI  02861 U.S.A. Tel: 1-401-725-8000.  Tel. from U.S. only: 1-800-554-9892. Fax: 1-401-729-0166. E-mail: vinyl@teknorapex.com.



Robert J. Martino

Martino Communications Inc.

8 Main Street / P.O. Box 379

Hastings-on-Hudson, NY 10706 U.S.A.

Tel: 1-914-478-0754

Email: bob@martinocommunications.com

www.martinocommunications.com



www.twitter.com/MartinoComms

More from Communication Systems & Equipment