Clear Polycarbonate Fume Hoods offer 360° visibility.
Press Release Summary: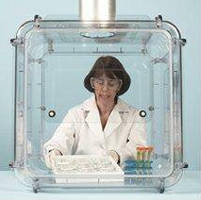 Model F50020-1010 1 x 1 Scienceware Clear View Fume Hood measures 26 x 24 x 26 in. and has single 6 in. OD top port hole opening for connection to exhaust system. Measuring 44 x 24 x 26 in., model F50020-2010, 2 x 2 hood includes two 6 in. OD port hole openings on top panel. Both hoods have sliding sash that can be lowered all the way or set at choice of two height positions. Suited for laboratory, classroom, or production facilities, units allow full visibility into hood from all sides.
---
Original Press Release:

Scienceware® Clear View Fume Hoods Provide a Safe Working Environment with 360° Visibility



Pequannock, NJ - Exposure to noxious or potentially hazardous fumes and dust are standard fare for many occupations and even hobbies. At best this exposure can be unpleasant and at worst poses very real and serious health risks. Fume hood cabinets are one local ventilation device designed to effectively limit the user's exposure to hazardous or noxious fumes, vapors or dusts by creating a confined work space where fresh air is drawn in from an open side and then the potentially contaminated air is either expelled to the outside through a central exhaust system or circulated through a filtration system so that recirculation within the building is safe.

1 x 1 Scienceware Clear View Fume Hood

Made of clear polycarbonate, a material of exceptional durability and clarity, Bel-Art Product's new Clear View Fume Hoods have a sleek, modern style that Bel-Art Products' Product Manager Robert N. Petersen touts as "functional and aesthetically pleasing with the added benefit of having full visibility into the hood from all sides."

"Whether used in a laboratory, classroom or production facility, the overall clarity of the hood creates a dynamic, interactive experience. Users for instance a teacher, can monitor other activity in the room, students or co-workers are able to clearly see procedures taking place inside the hood, and others can see and interact appropriately with those currently engaged using the fume hood.

2 x 1 Scienceware Clear View Fume Hood

"In addition, unlike fume hoods with solid sides, light from the general work room can penetrate the Clear View Fume Hoods providing a brighter work space without supplemental light." Petersen also notes that in addition to its use as a fume hood, 'the enclosed work space can be used as a draft and dust free area for delicate work such as using balances and other equipment."

Two sizes of the Clear View Hoods are available. The 1 x 1 model (F50020-1010) is 66 x 61 x 66cmH (26 x 24 x 26") and has a single 6" O.D. top port hole opening for connection to an exhaust system. A larger 2 x 2 model (F50020-2010) is 111 x 61 x 66cmH (44 x 24 x 26") and has two 6" O.D. port hole openings located on the top panel of the unit for exhaust connection. Each unit has a sliding sash which can be lowered all the way or set at a choice of two height positions. List price is $1450.00 U.S. for the 1 x 1 model and $1700.00 U.S. for the 2 x 2 model. Customization options such as electrical connections, interior lighting or other sizes are also possible and priced separately through Bel-Art Products Custom Department.

For more information on Scienceware® Clear View Fume Hoods and the complete line of Scienceware® laboratory offerings from Bel-Art Products call 1-800-4BELART, email info@belart.com or visit www.belart.com.

Bel-Art Products simplifies tasks with innovative product solutions for science, industry and healthcare. Over 3500 items from safety wash bottles to fume hoods are manufactured and marketed under well-known brand names including Scienceware® laboratory products, Spinbar® magnetic stirring bars, Magic Touch(TM) ice wares, Sterileware® sampling tools, Secador® desiccator cabinets, KLETT® colorimeters, and Poxygrid® racks. Established in 1946, Bel-Art Products is a United States based manufacturer headquartered in Pequannock NJ.

Bel-Art Products, Inc. | 6 Industrial Rd | Pequannock | NJ | 07440

More from Services