Clear Medical Grade TPEs do not produce tacky feel.
Press Release Summary: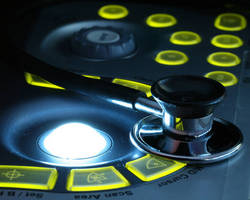 Intended for medical product designers and manufacturers, SEBS-based thermoplastic elastomers (TPEs) of CLR series includes grades with hardnesses from 15–75 Shore A as well as 2 grades, CLR65 and CLR75, that are oil-free. Odorless TPEs utilize FDA-compliant materials exhibit tear resistance, can be color tinted, and can be extruded or injection molded. Applications include grips for medical and dental utensils as well as knobs and buttons for medical equipment.
---
Original Press Release:

Elastocon Expands Line of Clear Medical Grade TPEs



ROCHESTER, IL – Several new grades of clear, SEBS-based thermoplastic elastomers (TPEs) from Elastocon TPE Technologies now offer medical products designers and manufacturers an even broader selection from which to choose.  Depending upon suggested applications which include grips for medical and dental utensils and knobs and buttons for medical equipment, the newly expanded CLR series choices are available in low formulations, with some formulations being completely oil-free .



Specifically, the expanded grades now include a broader range of hardnesses, from 15 Shore A to 75 Shore A.  Two grades – CLR65 and CLR75 are completely oil-free.



These formulations stand out from among competitive clear TPEs in that they:

• Are odorless

• Can be extruded or injection molded

• Utilize materials that are FDA compliant

• Give the end product a good (not tacky) feel

• Have exceptional tear resistance

• Offer high resilience, high strength properties

• Can be easily color tinted

• Result in products with vibrant, highly resilient, shiny surfaces

• Offer high flow during processing



Elastocon offers a wide variety of TPEs, including the 2800 Series and 8000 Series of TPEs, the SMR Series of TPOs, the STK Series for overmolding, and alloys, all of which can be injection molded, extruded, blow molded or compounded.   Elastocon thermoplastic elastomers do not require drying and are offered for applications that require rubber-like properties, impact resistance, colorability, a good surface finish, easy processability, reduced material usage and numerous other features and benefits.  All Elastocon grades are free from latex, and are RoHS and California Proposition 65 compliant, with many of the company offerings being FDA compliant, as well as UL and NSF approvable, and are suitable for medical applications.  Elastocon can provide ISO reporting for manufacturing and shipping.  All grades are reclaimable and recyclable.



For more information on the newly expanded line of clear TPEs for medical applications, contact: Marketing Department, Elastocon TPE Technologies, Inc., P.O. Box 463, Rochester, IL 62563.  Tel: 1-888-644-8732.  Fax: 1-888231-8332.  E-mail: sales@elastocontpe.com.  Web: www.elastocontpe.com .

Related