Clear Heaters deliver heat while transmitting light.
Press Release Summary: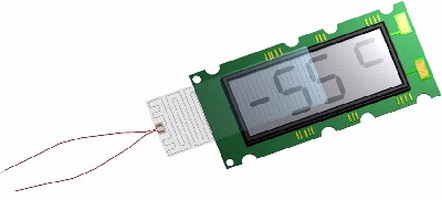 Featuring micro-thin, etched foil or wire-wound elements sandwiched in between optical-grade polyester sheets, Thermal-Clear(TM) Heaters provide uniform or profiled heat patterns without blocking light. Units can integrate temperature sensors, flex circuits, controllers, or other electronics to provide total heating solution. Available in sizes up to 280 x 560 mm, heaters are RoHS-compliant and suitable for heating LCDs, cockpit displays, outdoor card readers, and portable military radios.
---
Original Press Release:

Ultra-Thin Flexible Clear Heaters Deliver Heat While Transmitting Over 80% Of Visible Light



Ideal when you need heat without obstructing visibility.

Minneapolis, Minn., June 18, 2008-Minco, a designer and manufacturer of critical components for critical applications, has a new, expanded line of flexible heaters are designed to provide accurate, reliable and rapid heat in a lightweight, thin profile. Thermal-Clear(TM) heaters feature a micro-thin wire-heating element sandwiched in between optical-grade polyester sheets. These heaters provide reliable uniform or profiled heat patterns without blocking light. They are ideal for heating LCDs, cockpit displays, outdoor card readers, portable military radios and computers and for optical deicing and defogging. They are perfect when you need heat with light shine-through.

Etched foil or wire-wound heater elements can have uniform or profiled heat patterns. These heaters can integrate temperature sensors, flex circuits, controllers or other electronics to provide a total heating solution. Choose from a selection of standard configurations, or have a Minco engineer work with you on an affordable custom heating solution.

Most dot matrix LCDs lose sharpness and response speed below 0°C. With Thermal-Clear(TM) heaters, you will achieve performance at temperatures as low as -55°C. The heater is sandwiched between the backlight and the LCD in a typical installation. An optional light diffuser will soften and conceal any shadows cast by the heater element. Special element routing and profiling also optimizes the LCD's clarity.

Thermal-Clear(TM) heaters are low mass and have high watt densities for fast warm up. Tight resistance tolerance provides constant and repeatable wattage output for longer battery life. Heaters can be rectangular, round or irregular shapes with uniform or profile heating patterns. Fine wire elements deliver long life with high performance. The rugged polyester construction prevents damage during installation and operation. Available in sizes to 280mm by 560mm, they are RoHS compliant.

Options include integrated RTDs or thermistors for accurate temperature sensing, Heaterstat(TM) sensorless controller and flex circuit terminations.

A Prototype Heater Design Kit is also available. A Heater Design Guide can be ordered in print or downloaded.

The Minco Engineer2Engineer Community gives you ready access to engineers at Minco who are happy to discuss your heating requirements. You can access this community via the website (http://www.minco.com), or phone 763-571-3121 for more information.

About Minco

Minco designs, manufactures and markets critical components for critical applications. The company is unsurpassed in its ability to integrate and assemble flexible Thermofoil(TM) Heaters, Flex Circuits, Sensors and Instruments into a single component for greater efficiency. Minco helps companies minimize the risk of product failure by providing highly reliable components and expert design services.

Worldwide Headquarters: 7300 Commerce Lane, Minneapolis, MN 55432 U.S.A.

European Headquarters: Zone Industrielle 09310 Aston, France

Asia Pacific Headquarters: 20 Science Park Rd #20-31 Teletech Park, Singapore

More from Sensors, Monitors & Transducers