Clear Epoxy Encapsulant has pourable formulation.
Press Release Summary: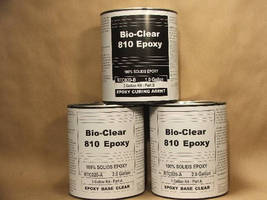 Bio Clear 810(TM) is solvent free, clear epoxy used for object encapsulation (marine, electronic, and gift industries) as well as poured-on bar top and table top applications. Features include low exotherm kick, slow UV epoxy yellowing, and low viscosity, making it suited for poured applications between 1/4 and one inch thick. Bio Clear 810 has a 2:1 mix ratio.
---
Original Press Release:
Bio Clear 810 (TM) Epoxy
Pittsfield, NH - (11/11/09) - Progressive Epoxy Polymers, Inc., an internet supplier of epoxy resins/coatings, urethanes, fillers and thickeners for commercial, residential and marine use, is offering a special epoxy for encapsulation and poured tabletop/bar top applications. Bio Clear 810(TM) is a low viscosity, solvent free, clear epoxy used for object encapsulation (marine, electronic, and gift industries) as well as poured-on bar top and table top applications. Key features include a low exotherm kick, slow UV epoxy yellowing, and low viscosity, making it ideal for poured applications between 1/4 and inch thick. Bio Clear 810 has a 2:1 mix ratio and is sold in 48 oz, 1.5 gallon and 3 gallon kits ($4, $100, $180). Visit PEP's web site at: www.epoxyproducts.com data and msds at: www.epoxyproducts.com/datamsds.html contact: Paul Oman info@epoxyproducts.com
More from Electrical Equipment & Systems