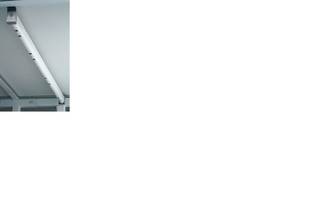 Cleanroom Ionizing Bars Fullerton, CA – Terra Universal's IonBar™ distributes neutralizing ions to prevent electrostatic discharge (ESD), important for cleanrooms and other controlled environments. IonBars use fans to disperse balanced amounts of neutralizing positive and negative ions. Buildup of electricity is a highly destructive force in the manufacturing and packaging of sensitive components, such as in the semiconductor or medical device industries.
Ions are distributed using fan/filter unit (FFU) ceiling modules, or come with built-in fans for placement in enclosures such as gloveboxes. A series of modules mounted to a cleanroom ceiling grid or under an FFU will protect the entire cleanroom without disrupting laminar airflow. Ionizing bars come in several lengths to accommodate multiple equipment configurations. The modules can reduce build-up of electric charges in seconds, and prevent accumulation during operation.
In addition to preventing ESD, decreased static levels also keep contaminating charged particulates from sticking to clean surfaces. IonBars are made with static-resistive PVC housing and require no calibration; machined titanium ion emitters are easily replaced (approximately every three years). A red LED power indicator displays operation status at a glance.
Terra Universal has 40 years of experience manufacturing particle- and static-control equipment for sensitive environments. Visit TerraUniversal.com for more information about their IonBars.
Contact:
Mike Buckwalter
Terra Universal: Marketing
Phone (714) 578-6000
More from Architectural & Civil Engineering Products