Cleanout Saws help repair cracked floors.
Press Release Summary: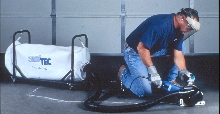 Crack chasing and joint cleanout saws rout out random cracks and joints prior to use of repair compound. All concrete cuts can be made with either hand held or walk-behind saws. Crac-Vac routs out random cracks to depth of 1-1/4 in., and can be used for straight-line joint cleanout work. Cutting to 1-1/2 in., walk-behind CC-100 crack chaser cuts up to 8 ft of crack/min. Cut-Vac cuts to 2-1/2 in. JS-90 and JS-110 clean joints at 20 to 60 ft/min.
---
Original Press Release:
Sawtec Line Offers Contractors A Total Solution For Crack Repair

Fresno, TX - (January 9, 2002) - Proper maintenance of concrete floors often involves crack repair. Cracks in a concrete floor are caused by a number of factors including temperature changes, changes in moisture levels, stress loads (such as heavy traffic or heavy objects), ground or building movement, the hydration process of the concrete slab when it is curing, or poorly placed control joints. Cracks can also be caused when a concrete slab is poured on an unstable subsurface.

It is important to repair cracks, because if left unrepaired they will spread and cause the concrete to become unstable. Additionally, coatings will fracture along joints or cracks that are not properly addressed. When preparing to repair a crack, the first question a contractor needs to ask is "What type of traffic will this floor have? " This answer will determine how the crack is opened up and addressed. A floor needing to withstand foot traffic will be handled much differently than a floor having to stand up to the strain of heavy equipment. The second question asked by the contractor is "What type of crack is it?" A cosmetic crack, which does not go all the way through the slab, will be addressed very differently than a structural crack. Once these questions are answered, the contractor can get busy opening the crack, sealing the crack and putting a topcoat back on the floor.

Cosmetic cracks in floors are generally the easiest to handle. The contractor is often able to "V" cut the crack, seal it with a hard filler material and normally never have further problems. However, addressing structural cracks where heavy equipment is involved is a little more complicated. The contractor will often square cut the crack, then apply a flexible epoxy resin or sealer. Many variables, such as crack movement, age of the concrete and type of traffic, must be considered when repairing a structural crack. These cracks generally are diagnosed on a case-by-case basis.

Fortunately, there is a single convenient source available for the tools and supplies needed to properly repair a cracked floor - Sawtec. Sawtec crack chasing and joint cleanout saws are available to address just about any crack or expansion joint repair situation. Sawtec crack chasing saws rout out random cracks and joints in preparation for the application of repair compound prior to recoating. Used by aligning the saw's diamond blade with the crack, the tools simply saw out the crack or joint. After sawing out the crack or joint, make sure any remaining loose bits of concrete or debris are removed, and then follow the manufacturer's instructions for applying the repair compound (epoxy or filler). Sawtec joint cleanout saws and cracking chasing saws are virtually dust-free--promoting reduced worker fatigue, faster cleanup and the ability to have other workers working in the same area.

All concrete cuts can be made with either hand held or walk-behind saws. The depth and length of the crack will determine which tool is the proper choice for each individual crack. The Sawtec Crac-Vac routs out random cracks to a depth of 1 %", and when mounted on a dolly, it can also be used for straight-line joint cleanout work. Cutting to 1 1/2 ", the CC-100 crack chaser is a walk-behind crack chasing saw designed for high productivity jobs. It cuts up to 8 feet of crack per minute. The Sawtec Cut-Vac cuts to 2 1/2" and may also be used with a dolly for stand-up operation and joint cleanout. For deeper cuts to 3" and workhorse-like performance, the JS-90 and JS-1 10 joint cleanout saw cleans joints at 20 to 60 feet per minute, depending on the material being cut.

Sawtec, a division of USF Surface Preparation Group, provides contractors with dust- free tools and accessories for surface preparation. The Tile-Vac saw is dust-free when cutting tile, mortar joints, grout joints or tuckpointing. A wide-base work shoe helps with accurate, straighter cuts common with decorative concrete applications. Sawtec chippers quickly remove existing floor coverings, glues and mastics. Surface grinding equipment is available for concrete cleaning, planing and coatings removal. Crack chasing tools handle random cracks and joint cleanout for concrete applications. Sawtec also offers a comprehensive line of dust collection systems, accessories, and premium diamond blades and cup wheels.
More from Controls & Controllers