Cleaning Compounds and Chemicals
Cleaning Solution Dispenser has safe, closed loop design.
Press Release Summary: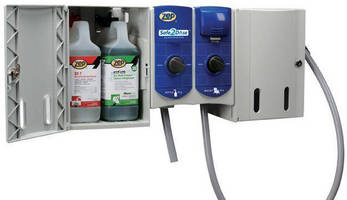 Safe2Dose(TM) closed-loop concentrated chemical dispensing system meets needs of facilities that have concerns about employee and environmental safety as well as waste. Chemicals are packaged to reduce spills, while color-coding and numbering on labels and caps facilitate setup and operation. Also, wall-mounted dispenser completely encloses chemicals. To compliment multiple selectable dilution levels and flow rates, system offers consistent and accurate portion and dilution control.
---
Original Press Release:
New Chemical Dispensing System Makes Green Cleaning Easier, Safer and Less Expensive
New Zep® Safe2Dose(TM) Takes the Worry out of Working with Concentrated Chemicals ATLANTA - Zep Sales & Service, a unit of Zep Inc. (NYSE: ZEP), introduces its latest Zep Dilution Solution: Safe2Dose(TM). The new closed-loop, concentrated chemical dispensing system helps facilities comply with green cleaning mandates in a safe and cost-effective manner. "Safe2Dose meets the needs of facilities that like the economy of concentrated cleaning chemicals, but have concerns about employee safety, environmental safety and waste," says Deborah Heilig-Roach, category manager, Zep Sales & Service, who points to an EPA statistic noting that U.S. institutions spend more than $75 million a year on medical expenses and lost-time wages for janitors because of chemical related injuries. Safe and Easy to Use Safe2Dose provides two levels of protection for workers against chemical exposures. First, the chemicals (several products are a part of Zep's GreenLink(TM) line of environmentally preferable cleaners including disinfectants, degreasers, cleaners, and deodorizers) are packaged to reduce spills. In addition, color-coding and numbering on the labels and caps make set-up and operation easier. Second, the system's wall-mounted dispenser completely encloses the chemicals for further protection against any environmental exposures. Setting up the system is easy and needs only to be done once. The dispenser cabinet can be placed just about anywhere, in a variety of configurations. It's also easy to select multiple dilution levels, as well as flow rates for low (bottle) use and high (bucket) use. "The system is ideal for companies seeking to reduce injury and liability risks relating to employee and environmental exposure to concentrated chemicals," Heilig-Roach adds. Cost Efficiencies Safe2Dose is ideal for facilities that want to control chemical costs and improve performance, especially those facilities that are already using concentrated chemicals or moderate or high users of ready-to-use chemicals. "Concentrated chemicals make economical good sense," Heilig-Roach says, pointing out that just two liters of concentrated product can yield the same cleaning performance as up to 544 quarts of ready-to-use product (yields vary by product). The concentrated chemicals used in the Safe2Dose system cost more than half the cost of the same chemicals in ready-to-use formats. In addition, the consistent and accurate portion and dilution control provided by the system's pressure regulation technology further helps facilities manage their costs. The system also reduces damage claims that can result when incorrectly diluted products damage surfaces. Environmental Sustainability The Safe2Dose System includes several of Zep's GreenLink line of chemicals. It lets facilities reduce waste through portion control and improve safety for employees and the environment - two key tenets of green building certification programs including the USGBC's LEED Green Building Rating Program. "A clean, healthy work environment reduces absences, improves morale and increases productivity as well," concludes Heilig-Roach. For more information on the Zep Safe2Dose system, visit www.zep.com or call 1-877-I-BUY-ZEP (1-877-428-9937). About Zep Inc. Zep Inc. (NYSE: ZEP), with fiscal 2010 net sales of almost $570 million, is a leading producer, marketer, and service provider of a wide range of cleaning and maintenance solutions for commercial, industrial, institutional, and consumer end-markets. Zep Inc.'s product portfolio includes anti-bacterial and industrial hand care products, cleaners, degreasers, deodorizers, disinfectants, floor finishes, sanitizers, and pest and weed control products, as well as high performance products and professional grade chemical products for the automotive, fleet maintenance, industrial/MRO supply, institutional supply and motorcycle markets. The Company markets these products and services under well recognized and established brand names, such as Zep®, Zep Commercial®, Zep Professional(TM), Enforcer®, National Chemical® Selig(TM), Misty®, Next Dimension(TM), Petro®, i-Chem® , TimeMist®, TimeWick, MicrobeMax(TM), Country Vet®, Konk(TM), Niagara National(TM) and a number of private labeled brands. Some of Zep's brands have been in existence for more than 100 years. Zep Inc.'s headquarters are in Atlanta, Georgia. Visit the company's website at www.zepinc.com.
More from Fluid & Gas Flow Equipment