Cleanable Rolling Door targets food and beverage industry.
Press Release Summary: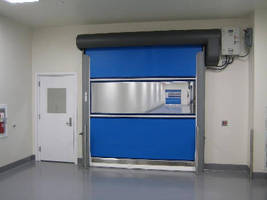 With fiberglass composite construction, Rytec's Plexline® Clean Rolling Door offers cleanable, corrosion-resistant alternative to stainless steel. Standard unit features front and rear panel seals, vinyl loop along leading edge, and header seal made of USDA/FDA-compliant material. To facilitate cleaning, door has smooth, flat, and non-porous surfaces with hidden fasteners and rounded edges. Direct-drive motor operates door at up to 50 ips to quickly contain and separate environments.
---
Original Press Release:

Product Highlight: Plexline® Clean For Food and Beverage



The High Performance Door Co. is pleased to bring you Rytec's Plexline Clean Rolling Door. With humid, moist environments and harsh cleaning products, the food and beverage industry needs "cleanable" solutions throughout the plant to comply with regulations and prevent corrosion problems. In lieu of 100% stainless steel, more companies are turning to fiberglass composites and blended solutions in areas where complete wash down is not necessary. With its high-performance composite materials and USDA-compliant door panel, Rytec's Plexline Clean door is a cleanable, corrosion-resistant and an affordable alternative to stainless steel.



The Plexline Clean door combines high speed, a tight seal and composite construction for greater efficiency and compliance even in harsh conditions. The durable fiberglass composite construction and stainless steel-clad bottom bar are easy to clean as well as chemical and corrosion-resistant. The standard door features front and rear panel seals, a vinyl loop along the leading edge, and a header seal made of USDA/FDA-compliant material.



Compliant

Rytec's USDA-compliant polyester fabric is  smooth, easy to  clean, and engineered to roll.  The PVC-coated, 2-ply material is  specifically  engineered for roll-doors in food processing  plants, including meat, fish and poultry plants.  



Mold, Chemical and Corrosion-Resistant

The pultruded fiberglass composite frame is resistant to corrosion, harsh cleaning chemicals and mold growth.



Exceptionally Clean and Low Maintenance

Smooth, flat and non-porous surfaces with hidden fasteners and   rounded edges allow for easy cleaning.  Superior corrosion- resistance means that the frame will  never need painting, which translates to significantly reduced maintenance costs.

 

Sanitary Full-Perimeter Seal

Edge-to-edge USDA/FDA-compliant material seals the top. Two vinyl seals in each side column create seals against the front and rear of the panel. A soft and pliable vinyl loop along the floor completes the seal.



Fast

The direct-drive motor operates the door at up to 50 inches per second to quickly contain and separate environments while accommodating efficient traffic flow.



Safe

Pathwatch safety lights, full-width vision panel, an adjustable pneumatic reversing edge and thru-beam photo eyes are standard safety features.



Takes a Hit™ and Resets

Accidents happen. To reduce downtime and repair costs in high-traffic  food plants, the Plexline will break away   upon impact. Rytec's Quick-Set™ repair system allows the operator to reset the door with a push of a button after aligning the bottom bar.



Egress via Counterweighted Brake Release

The optional counterweighted brake release permits manual opening during power failures.



Stainless Steel Alternative

Rytec's composites are strong, lightweight, cleanable and attractive. The color palette combined with the composite material offer the aesthetics comparable to stainless steel.  Rytec's Plexline Clean door is specifically designed to meet stringent hygiene and safety standards, while offering food manufacturers all the productivity, climate control and cost-saving benefits of a high-speed door.

More from Material Handling & Storage