Classic Tube Solves Your Plumbing Problems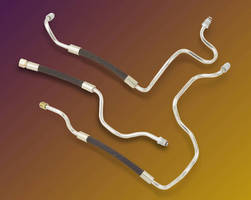 Lancaster, NY: If you're into building, repairing or customizing import or domestic vehicles, you know the problems that can arise. Engine swaps, brake upgrades, cooling system modification or fluid re-routing for any reason, can be a daunting task. But, CLASSIC TUBE has the universal answer to these problems. Their combination flexible rubber and hard line hoses are the answer to almost any mechanical or automotive plumbing dilemma.

As with all CLASSIC TUBE products, these lines have been extensively tested for strength and durability and are available for almost all car, truck and SUV applications. SAE and metric end fittings, in a myriad of sizes, allow for use on everything from antique vehicles, to heavy machinery, to marine, street rod, muscle car and custom cars. In fact, their versatility is endless for those hard to solve problems. CLASSIC TUBE also has stainless steel, steel and aluminum pre-bent hard tubing for trans, fuel, brake, choke, vacuum and hydraulic use as well. Check out all their pre-bent tubing and related products and tools at www.classictube.com or call TODAY!

For additional information contact CLASSIC TUBE, 80 Rotech Drive, Lancaster, NY, 800-882-3711, Fax: 716-759-1014.


More from Material Handling & Storage