Classic Coil is Happy to Offer Engineering Assistance as a Service to Our Clients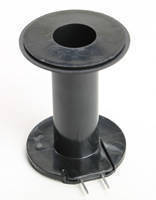 (For qualified projects, we will make prototypes at a minimum charge plus any out of pocket tooling costs.)



Classic Coil will work with you through each step of the design process. Our  Engineering staff stand ready to work with you to optimize you coil design for functionality and low cost.



Engineering Assistance starts with understanding your product's environment through to first production runs.  We follow Advanced Product Quality Planning (APQP) guidelines for product development.



Bobbin Design Considerations:



Production Bobbin Considerations:



•  Most glass filled bobbin flanges should be at least .030" thick

•  Annual volume has the potential to exceed 5000. Add .100-.120" to the top flange and .030" to the bottom. This added footprint will allow for bobbin to carry terminals (thus eliminating the costly manual soldering operations- see discussion on Molded Coils.) The added height will also accommodate automated winding machines

• Bobbin material depends upon UL and environmental considerations - see encapsulant area for UL material selection

•  Bobbin terminal slot can be designed to take spade terminals that match the mating female connector or accept lead wire to be welded

•  Spacing between terminals- UL dependent

•  Bobbin design should accommodate diodes, rectifiers or fuses

•  Moisture barriers may need to be designed into the bobbin

•  UL Considerations for bobbins not to be overmolded

UL Considerations for bobbins not to be overmolded *

UL Class Magnet wire Bobbin/tube material

F MW 26/ MW 24(180C) Rynite series 415HP, FR 515, FR 530, FR530L, Nomex 410, Zytel

F MW80 (150C) Rynite FR 530, Nomex

H MW 35, MW 74(200C) Aramid Paper, Nomex



*For coils that will be over molded, see Encapsulate Decisions

Metal  Bobbins for  Cores, Rotors , LVDT, RVDT

• must be insulated between the bobbin, rotor, and magnet wire

• For bobbin- Kapton tape provides the insulation

• For rotors and where space is limited-  use 3M Scotchcast powder resin. Contact Classic Coil Engineering for  help in specifying electrostatic coating



Ready to Get Started? Contact us to begin!



More from Electronic Components & Devices