Class D Speaker Amplifier offers automatic level control.
Press Release Summary: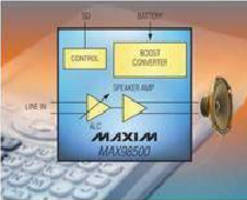 Designed for battery-operated portable devices, 2.2 W MAX98500 integrates boost converter to provide constant output power. Class D amplifier is equipped with battery-tracking Automatic Level Control circuit that limits max output swing as supply voltage drops. ALC helps to avoid clipping and prevents battery voltage from collapsing. Housed in 2.1 x 2.1 mm WLP, MAX98500 accepts 2.5-5.5 V supply range and is operational down to 2.3 V with efficiency of 85%.
---
Original Press Release:

Boosted Speaker Amplifier Makes Smartphone Speakers Louder without Collapsing Battery Voltage



Amplifier provides louder audio without collapsing the battery voltage.

Maxim announces a boosted 2.2W Class D amplifier with automatic level control to prevent the battery voltage from collapsing.

SUNNYVALE, CA - Maxim Integrated Products (NASDAQ: MXIM) introduces the MAX98500, a boosted 2.2W Class D amplifier designed for battery-operated portable devices. This device integrates a boost converter to provide a constant output power and, therefore, louder audio output over a wide range of battery supply voltages. Additionally, the MAX98500 is uniquely equipped with a battery-tracking automatic-level-control (ALC) circuit that limits the maximum output swing as the supply voltage drops. ALC helps to avoid clipping and prevents the battery voltage from collapsing, which otherwise might cause a reset of the system. The MAX98500 is ideal for cell phones, portable media players, PDAs, netbooks, and other battery-operated audio applications.

The MAX98500 accepts a wide 2.5V to 5.5V supply range, and is operational down to 2.3V. The device delivers 2.2W of output power (8W, VDD = 3.6V, THD+N = 10%), and has a total efficiency of 85% (typ). Offered in a tiny (2.1mm x 2.1mm), 16-bump wafer-level package (WLP) with a 0.5mm-lead pitch, the MAX98500 is fully specified for operation over the -40°C to +85° extended temperature range. Prices start at $0.72 (1000-up, FOB USA). An evaluation kit is available to speed designs.

Maxim Integrated Products is a publicly traded company that designs, manufactures, and sells high-performance semiconductor products. The Company was founded over 25 years ago with the mission to deliver innovative analog and mixed-signal engineering solutions that add value to its customers' products. To date, it has developed over 6300 products serving the industrial, communications, consumer, and computing markets.

Maxim reported revenue in excess of $1.6 billion for fiscal 2009. A Fortune 1000 company, Maxim is included in the Nasdaq 100, the Russell 1000, and the MSCI USA indices. For more information, go to www.maxim-ic.com.

Customer Service: 1-800-998-8800

Related