Class D Audio Amplifier has integrated charge pump.
Press Release Summary: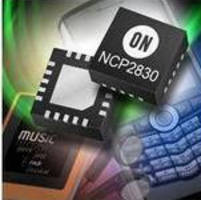 Supplied in 20-pin, 3 x 3 x 0.5 mm QFN package, 1 W-rated constant power NCP2830 delivers continuous audio output to 8.0 ohm bridge tied load with less than 1% THD. Even if input voltage varies, there is no audio volume reduction or distortion as battery depletes. RoHS-compliant audio amp, suited for applications such as cell phones, DVRs, and portable speakers, operates from 2.7-5.5 V and offers overall efficiency rating up to 89%. SNR is 100 dB, and start-up time is 200 µsec.
---
Original Press Release:

ON Semiconductor Launches Constant Output Power Audio Amplifier with Integrated Charge Pump as Space-Saving Solution for Portable Devices



NCP2830 delivers constant 1 watt to deliver continuous high quality audio output as battery depletes

Phoenix, Ariz. - ON Semiconductor (Nasdaq: ONNN), a leading global supplier of high performance, energy efficient, silicon solutions has introduced a new Class D Audio Amplifier with an integrated charge pump that provides a cost-effective and space-efficient speaker amplifier solution for applications such as cell phones, digital video recorders and portable speakers.

The NCP2830 is a 1 watt (W) constant power filterless device that delivers continuous, high quality audio output to an 8.0 ohm (W) Bridge Tied Load (BTL) with less than 1 percent total harmonic distortion - even if the input voltage varies. This results in longer equipment operating times as the user does not experience reduced audio volume or distortion as the battery depletes.

Housed in a 20-pin QFN package measuring just 3 mm x 3 mm x 0.5 mm, the NCP2830 occupies minimal board space and can also be used where component height is restricted. The integrated design reduces the need for external components and also helps simplify and speed the implementation of a reliable, complete, audio amplifier solution.

The NCP2830 operates from a supply voltage of between 2.7 volts (V) and 5.5 V, has a fast start-up time of 200 micro seconds (µS) and a superior power supply ripple rejection ratio (PSRR) of -88 decibels (dB). Overall efficiency is up to 89 percent and low noise performance is underlined by a signal-to-noise ratio (SNR) of 100 dB. An optimized Pulse Width Modulation (PWM) output stage gives the NCP2830 filterless capability that further reduces the number of external components required.

"The growth and diversity of the market for portable wireless products such as cell phones and PDAs continues at an exciting pace. One challenge the designers are facing is to deliver powerful, yet clear audio output." said Marie Capron, low voltage power management business unit director with ON Semiconductor. "The NCP2830 achieves the constant high power audio output with the smallest solution size and cost, thanks to the switched capacitor structure that makes the device unique in the market."

The NCP2830 uses a halogen-free molding compound and is a RoHS compliant, Pb-Free device.

For additional technical information contact Crystal Zins-Lam at [email protected] or visit www.onsemi.com

About ON Semiconductor
With its global logistics network and broad product portfolio, ON Semiconductor (Nasdaq: ONNN) is a preferred supplier of high performance, energy efficient, silicon solutions that enable designers to quickly and cost-effectively improve system efficiency for electronics in the computing, communications, consumer, automotive, industrial, medical and military/aerospace markets. The company's portfolio includes power management, signal, logic, discrete and custom devices. The company operates a network of manufacturing facilities, sales offices, and design centers in key markets throughout North America, Europe, and the Asia Pacific regions. For more information, visit www.onsemi.com.

ON Semiconductor and the ON Semiconductor logo are registered trademarks of Semiconductor Components Industries, LLC. All other brand and product names appearing in this document are registered trademarks or trademarks of their respective holders. Although the company references its Web site in this news release, such information on the Web site is not to be incorporated herein.