Class 2 Approved Transformers handle variety of applications.
Press Release Summary: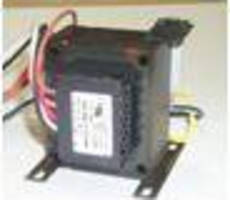 Wabash Class 2 transformers are designed for energy efficient household and commercial appliances as well as HVACR. They are available with multiple primary and secondary windings, inherently or noninherently limited, for PCB mount, solder/quick connect terminals, and lead wires. Incorporating high safety isolation, units are available up to 100 VA and are offered in UL-, cUL-, and VDE-approved models. Optional touch safe lead connections are available.
---
Original Press Release:

Wabash Transformer Announces Its Class 2 Approved Transformers



Wabash Transformer Corporation is pleased to announce our Class 2 approved transformers for use in energy efficient, household and commercial appliances and heating ventilating air conditioning and refrigeration (HVAC-R). Transformers are designed as drop in replacement to major brands to reduce customer supplier transition costs and deliver per annum savings. Transformers are available with multiple primary and secondary windings, inherently or non-inherently limited (for externally fused applications) for printed circuit board (PCB) mount, solder/quick connect terminals and lead wires.

Typical applications include control panels, HVAC-R, automotive, pools and spas, water treatment, residential and commercial lighting and food preparation equipment.

Features:

o High safety isolation.

o Inherently or non-inherently limited.

o 100% hipot tested at 2500V.

o 50/60 Hz standard.

o Touch Safe lead connections (upon request)

o UL, cUL, VDE approved models

o Up to 100VA (Class 2 models)

Benefits of Using Wabash Transformer:

o Over 30 years of experience with Class 2 transformers.

o Leading the industry with cost effective solutions and drop in replacement to competitive brands.

o Cost competitive quotes (made in USA and/or Mexico).

o Global supply chain provides risk-free and reliable product(s) design and delivery.

o Supply chain programs (e.g. Just in Time, Consignment, KanBan) available.

To request product literature please visit us at www.wabashtransformer.com or call us at 630-628-9999.

Wabash Transformer has been producing quality custom and pre-designed transformers for over 30 years. Our Quality Policy is simple, and effective:

A) Compliance to Requirements.

B) Continual Improvement.

C) Personal Pride in our Work.

Feel free to take advantage of our pre-designed models, or let us customize a transformer to your particular needs. Either way, you've come to the right place.