Clamping System, PCBN Grades enable efficient cast iron machining.
Press Release Summary: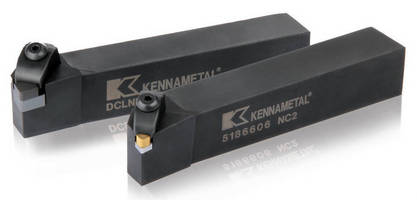 Beyond Shield™ has 3-point, carbide-clad clamp that exhibits wear resistance against chip flow and applies clamping force toward front of insert to reduce vibrations that can lead to cracking/failure. With this rigid clamping system, smaller IC PCBN (polycrystalline cubic boron nitride) inserts can perform well in same applications as larger IC inserts. Available grades include KBK35™ with multi-modal PCBN structure and CVD coating as well as KB1340™ for parts involving aged cast iron.
---
Original Press Release:

New Beyond Shield(TM) Combines Clamping System with New Superhard PCBN Grades for Excellent Efficiencies in Machining Cast Iron



Clamping system and advanced cutting materials provide improved process reliability and output, meaning more parts at less cost.



Beyond Shield™ by Kennametal provides a rigid and reliable clamping system for high-performance cast iron machining.



Advanced hard turning, or the use of superhard polycrystalline cubic boron nitride (PCBN) cutting tools for machining hardened ferrous materials like cast irons, is eagerly sought across a number of key manufacturing industries. Hundreds of millions of brakes discs, brake drums, flywheels, and wheel hubs are required annually in motor vehicle, heavy equipment, and other industries, and although superhard tools show promise for turning such tough-to-machine parts, that promise has been stalled due to the tendency of these expensive tools to shatter and break under the extreme forces required.



With decades of experience in advanced materials science and tool design, Kennametal is announcing Beyond Shield™ as the solution (responding to modern challenges in machining cast iron machining) to this situation.



"For customers machining gray cast iron brake disks and brake drums, Kennametal´s Beyond Shield™ PcBN inserts and clamping system provide up to 20% reduced tooling cost and up to 30% longer tool life compared to conventional systems," says Dr.-Ing. Raouf Ben Amor, senior global product manager. "Beyond Shield™ provides a robust clamping system that allows smaller IC PcBN inserts to perform well in the same applications as the larger IC insert, and by excellent matchup of wear and toughness in our grade properties proven in field tests."



Meeting the Clamping Challenge

High-performance cast-iron machining leads to extremely high mechanical and thermal loads. Conventional dimple-style clamps attempt to hold the cutting insert in place with direct point contact, which can break both clamp and insert under high pressure.



Beyond Shield has met the clamping challenge with a three-point clamp design that applies clamping force toward the front of the insert, closer to the cutting edge and significantly reducing vibrations that can lead to cracking and failure.



In addition, cast iron machining is a very aggressive environment where constant chip bombardment also cuts down clamp life. Beyond Shield provides a carbide-clad clamp through a unique Kennametal technology that improves clamp wear resistance from chip flow. Beyond Shield is also adaptable on standard toolholders, which can help control costs.



New PCBN Grades

In addition to being tough by nature, cast irons present a number of machining challenges for cutting tools. Casting quality can be unpredictable. Low sulfur content can lead to tool life decreases by up to 60 percent, and increased ferrite content can lead to high chemical wear, also substantially decreasing tool life. With a unique "multi-modal" PCBN structure, Kennametal´s KBK35™ grade has increased cubic boron nitride content that ensures increased wear resistance and longer insert life in both roughing and finishing operations. A chemical vapor deposition (CVD) coating protects against chemical wear resistance, and post-coat treatments improve cutting-edge toughness. "Field tests have shown double the tool life for KBK35™ in aged and unaged cast iron, and in specific cases such as brake drums, up to ten times (compared to ceramic-based solutions) the number of parts completed per insert."



For parts involving aged cast iron, Kennametal is also introducing grade KB1340™ to the Beyond Shield family. In brake disk field tests versus standard PCBN inserts, KB1340™ increased performance to 1700 pieces versus 1500 for the PCBN insert. In the same test versus ceramic inserts, tool life increases from 120 pieces to 4200.



"For customers facing the need to increase cutting parameters and yet improve process reliability and control costs, Beyond Shield™ is the way to high-performance cast iron machining," Ben Amor says. Kennametal´s Beyond Shield™ PcBN inserts are available in a variety of sizes in both coated and uncoated grades.



For more information, visit www.kennametal.com.



Kennametal

Celebrating its 75th year as an industrial technology leader, Kennametal Inc. delivers productivity to customers seeking peak performance in demanding environments. The company provides innovative wear-resistant products, application engineering and services backed by advanced material science, serving customers in 60 countries across diverse sectors of aerospace, earthworks, energy, industrial production, transportation and infrastructure. With approximately 13,000 employees and nearly $3 billion in sales, the company realizes half of its revenue from outside North America, and 40% globally from innovations introduced in the past five years. Recognized among the "World's Most Ethical Companies" (Ethisphere); "Outstanding Corporate Innovator" (Product Development Management Association); and "America's Safest Companies" (EHS Today) with a focus on 100% safety, Kennametal and its foundation invest in technical education, industrial technologies and material science to deliver the promise of progress and economic prosperity to people everywhere. For more information, visit the company's website at www.kennametal.com.



Kennametal Inc.

1600 Technology Way

PO Box 231

Latrobe, PA 15650-0231

USA

Kathy LINDEN

Phone: 724 539 5698

Fax: 724 539 6766

kathy.linden@kennametal.com



Kennametal Shared Services GmbH

Wehlauer Strasse 73

D-90766 Fuerth

Carsten GROMOLL

Phone: +49 911 9735 557

Fax: +49 911 9735 551

carsten.gromoll@kennametal.com

Powered by TCPDF (www.tcpdf.org)

More from Packaging Products & Equipment