Clamping Force Block offers flexible chuck jaw monitoring.
Press Release Summary: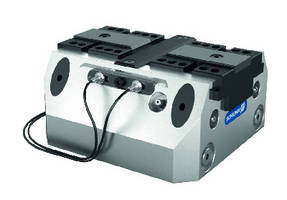 With one-piece rigid base body, wedge hook kinematics, and long ground jaw guides, TANDEM KSP plus provides concentrated clamping forces up to 55 kN with repeat accuracy up to 0.01 m. Whether using ID or OD clamping, opened or clamped positions for any base jaw position can be adjusted. Monitoring is done via 2 inductive proximity switches, which are integrated in recesses in base jaws. Optimized outside contour and minimum gaps prevent build-up of dust pockets or chips.
---
Original Press Release:

Clamping Force Block with Flexible Chuck Jaw Monitoring



The TANDEM KSP plus clamping force block from SCHUNK is setting new standards in automated manufacturing. For the first time ever, a standardized clamping force block provides for flexible monitoring along the whole jaw stroke. Whether using I.D. or O.D. clamping, the positions "opened" or "clamped" for any base jaw position can be adjusted. Monitoring is done via two inductive proximity switches, which are integrated in two special recesses in the base jaws. The system is sealed, and is therefore resistant against dirt. Since the signal can be directly processed in the machine control unit, the flexible queried clamping force blocks can be quickly and easily integrated into existing machines.



The compact clamping block has a high clamping force and exact precision. Its one-piece, rigid base body, the wedge hook kinematics and long ground jaw guidances provide for concentrated clamping forces of up to 55 kN. The excellent repeat accuracy of up to 0.01 mm also ensures exact results. Therefore they are suitable for demanding milling operations at a high metal removal rate, high cycle times, and minimum tolerances. Due to the two integrated jaw interfaces, top jaws with tongue and groove, and jaws with a fine serration can be used. The clamping force blocks are also available with an optional jaw quick-change system. The optimized outside contour and the minimum gaps prevent the build-up of dust pockets, chips, or dust penetrating the clamping block. A special fitting screw ensures that the clamping block can be exchanged at the highest repeat accuracy.



About SCHUNK:                                                                                                                          

SCHUNK is the worldwide competence leader for clamping technology and gripping systems. Totaling more than 60 years of experience, SCHUNK is a family owned operation and a global player in one. For more information, visit www.schunk.com



Media Contact     

Alexandra Altvater

Marketing Coordinator

919-767-2013



[email protected]





Technical Contact

Brad Evans

Team Leader Workholding

919-767-1987



[email protected]