Clamping Devices offer hydraulic and pneumatic operation.
Press Release Summary: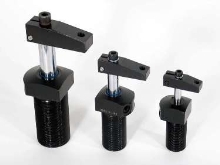 Stronghold(TM) Select products work together as part of complete workholding system. Available in 18 styles, hydraulic swing/pull clamps come in 475, 1,100, and 2,400 lb sizes. Hydraulic work supports include 1,650, 2,500, 5,000, 7,500, and 10,000 lb models, all in spring advance style. Treated metal surfaces offer corrosion resistance, while seal and wiper technology resists contamination and leaks. Line also includes pneumatic swing clamps, threaded body cylinders, and block cylinders.
---
Original Press Release:
De-Sta-Co Industries Introduces Stronghold(TM) Select Power Clamping Solutions At IMTS
Robust design offers longer life and higher ROI Chicago, Ill., Sept. 8, 2004 -- DE-STA-CO Industries, a world leader in the innovation, manufacture and support of clamping, gripping, transfer and robotic solutions, is launching its new StrongHold(TM) Select series of hydraulic and pneumatic products in booth E-2727 at IMTS 2004. Key to the new product line are three sizes of hydraulic swing/pull clamps -- 475 lb., 1100 lb. and 2400 lb., available in a total of 18 different styles and backed with a full line of accessories including standard and extended length arms, jam nuts and flange mounting brackets. The Select line also features five models of hydraulic work supports - 1650 lb., 2500 lb., 5000 lb., 7500 lb. and 10,000 lb. - all in the spring advance style. The new line also includes pneumatic swing clamps, threaded body cylinders, block cylinders and accessories. The StrongHold Select products work together as part of a complete workholding system, allowing users to secure all of their power workholding components from a single source. Significant set-up time reduction is gained, as operators can clamp an entire fixture from one location. Cost reduction is also achieved through extended cutting tool life as the rigid hold achieved by power clamping reduces vibration and cutting tool chatter. Distinguishing benefits of the new StrongHold Select series include: o Longer product life and decreased maintenance due to advanced seal and wiper technology that resists contamination and leaks; o Better wear and corrosion-resistance due to treated metal surfaces; o Reduced maintenance cost and high cycle life due to robust design; o MRO interchange offering customers flexibility to cost-efficiently upgrade; o Competitive pricing that offers better quality components at higher ROI. "With the addition of the StrongHold SELECT series of products, the StrongHold Clamping System continues to offer our customers high quality, cost-effective solutions to help them further improve their manufacturing processes and increase productivity for a better ROI," said DE-STA-CO Industries President Jon Simpson." For more information on DE-STA-CO Industries StrongHold workholding solutions, visit destacostronghold.com. About DE-STA-CO Industries The DE-STA-CO Industries family of companies is committed to being a lean resource for its customers, providing ways to eliminate waste in manufacturing processes through the use of optimal clamping and automation solutions that eliminate bottlenecks. DE-STA-CO's Industries wide range of products allows the company to offer its customers an Automation Continuum, providing solutions that increase profitability and efficiency, while reducing waste. DE-STA-CO Industries, a Dover Company, is a global leader in the innovation, manufacture, and support of clamping, gripping, transfer and robotic tooling solutions for workplace automation needs. Based in the U.S., the company's global presence includes manufacturing operations on four continents as well as sales offices in North America, Germany, Great Britain, Singapore and Spain. Major customers come from diverse industries including the automotive, machine tools, general industrial and electronics industries.
More from Materials