Clamp-On Current Sensor fits existing solid conductors.
Press Release Summary: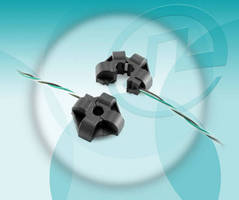 Able to be clamped onto existing solid conductor without having to disconnect conductor, Sidewinder PA3828NL has linear current range of 0.1–200 A with 1.0% accuracy for precision power measuring applications at 50/60 Hz AC. This di/dt AC current sensor, with 6.2 mm ID, opens to 7.0 mm to clamp onto conductor. Clamp feature can be opened and closed multiple times. Another application for this core-less, RoHS-compliant product is arc fault AC current monitoring.
---
Original Press Release:

Pulse Electronics' Sidewinder Clamp-On Current Sensor Easily Fits Existing Solid Conductors



San Diego, Calif. – Pulse Electronics Corporation (NYSE: PULS), a leading provider of electronic components, introduces its new 50Hz/60Hz, di/dt AC current sensor that can be clamped onto an existing solid conductor without having to disconnect the conductor. The PA3828NL clamp-on sensor has a linear current range of 0.1 amps to 200 amps with 1.0% accuracy for high precision power measuring applications at 50Hz/60Hz AC. Another growing application is for arc fault AC current monitoring, sensing frequencies up to 1MHz. This sensor is the latest addition to Pulse Electronics' Sidewinder® current sensor family. Applications include metering, industrial motor control, power monitoring, circuit protection, and current fault monitoring.



"Pulse's new current sensor is quite unique," explained Glenn Roemer, field applications engineer, Pulse Electronics. "It enables the sensor to be installed into an existing application without disconnecting the system, thus providing a lower installation cost for AC current measurement and AC power control applications."



The sensor has an internal diameter of 6.2mm and opens to 7.0mm to easily clamp onto a conductor. It is core-less, lightweight, and can be quickly installed. The robust clamp feature can be opened and closed multiple times.



The Sidewinder family of current sensors provides a highly linear output voltage over a very wide dynamic range from 0.1 to 1000 amperes. These sensors differ from traditional current sensors because they do not contain a magnetic core. This makes them more accurate, highly linear, lighter, easier to assemble, less expensive, and offers flexibility of design to suit a wide range of applications.



Pulse's new Sidewinder PA3828NL clamp-on current sensors are RoHS compliant and meet ANSI C12.20 accuracy Class 1.0 standards. They are sold in trays with prices around $1.75 in quantities of 10,000. Leadtime is 8 to 10 weeks. More information can be found on the datasheet located on the Pulse Electronics website at productfinder.pulseeng.com/product/PA3828NL or contact Pulse at info@pulseelectronics.com, or see the website at www.pulseelectronics.com.



About Pulse Electronics:



Pulse Electronics is a leading electronic components partner that helps customers build the next great product by providing the needed technical solutions. Pulse Electronics has a long operating history of innovation in magnetics, antennas, and connectors, as well as the ability to ramp quickly into high-quality, high-volume production. The Company serves the wireless and wireline communications, power management, military/aerospace, and automotive industries. Pulse Electronics is a participating member of the IEEE, SFF, OIF, HDBaseT Alliance, CommNexus, NFC Forum, MoCA, and IWPC. Visit the Pulse Electronics website at www.pulseelectronics.com.



Copyright ©2014 Pulse Electronics Corporation. All rights reserved. All brand names and trademarks are properties of their respective holders.



Pulse Electronics

Glenn Roemer

Field Application Engineer

Phone: +1 858-674-8203

Email: groemer@pulseelectronics.com



A R Marketing Inc. (agency)

Andrea Roberts

Tel: +1 858-204-9584 mobile

Email: andrea@armarketinginc.com

More from Material Handling & Storage