Clamp-On Ammeter is a Category Class III instrument.
Press Release Summary: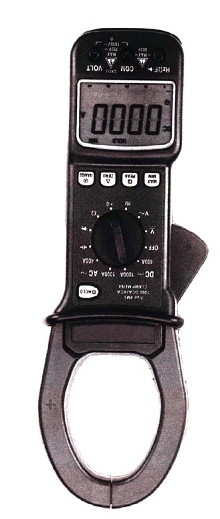 Hand-held Model 2606 offers measuring ranges of 0 to 1000 amps Ac/Dc, 0 to 1000 Vdc, 0 to 750 Vac (True RMS), resistance from 0 to 40 MOhm, capacitance range of 4 nF to 40 uF, and frequency from 100 Hz to 400 KHz. It also provides Continuity Test and Diode Test. 4000-count instrument, with impact-resistant case and electronic overload protection, is suited for use in field servicing, industrial maintenance, heating/refrigeration and power utilities.
---
Original Press Release:
Model 2606 Clamp-On Ammeter

The Model 2606 is a handheld 4000-count instrument which is designed for use in Laboratory, Field Servicing, Industrial Maintenance, Heating / Refrigeration, Power Utilities , Etc.
Features Include the following: Rugged High Impact Case for Rugged Environments, Electronic Overload Protection, Cat. III Class Instrument.

The Model 2606 Has The Following Measuring Ranges: 0 - 1000 Amps AC/DC, 0 - 1000VDC, 0 - 750VAC ( True RMS ), Resistance 0 - 40 MegOhm, Continuity Test, Diode Test, Capacitance Range 4 nF - 40 uF , Frequency 100 Hz - 400KHz.

Further details are available by contacting: Brunelle Instruments Inc. ( Since 1972 ) P.O. BOX 1223 NEWPORT VERMONT 05855 Tel. 800-567 - 3506 Fax: 819-569-1408 E-Mail: [email protected]