Clamp Meters safely measure high-voltage systems.
Press Release Summary: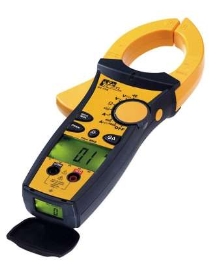 Series 770 and 760 consist of 1,000 and 600 A clamp meters, respectively. TightSight(TM) LCD, built into bottom of testers, enables electricians to view display from virtually any angle. Meters feature large tapered jaws and wire separating hook tip, true rms for noisy environments, and peak min/max with 1 ms capture to measure in-rush current. High Voltage Indicator alerts user if any voltage over 30 V ac/dc is present on any functions.
---
Original Press Release:

IDEAL Clamp Meter Line With Exclusive TightSight(TM) Display Redefines Safety & Performance


SYCAMORE, IL, September 1, 2004 - IDEAL INDUSTRIES, INC. today launched a breakthrough line of clamp meters that give electricians an unparalleled level of safety, convenience and performance. The new 1000 and 600 amp clamp meters are purpose-built to meet the needs of electricians working in industrial and commercial applications, and are especially effective for measuring high-voltage systems in tight, hard-to-reach panel boards.

Available in five unique models (MSRP $115-239 U.S.), the new meters are the world's first to feature the patented IDEAL TightSight(TM) LCD built into the bottom of the testers to enable electricians to view the display from virtually any angle. Other important features include the industry's brightest and boldest main display; rugged construction with large tapered jaws and a wire separating hook tip; True RMS for harsh, noisy environments; peak min/max with 1ms capture to measure in-rush current; and an exclusive High Voltage Indicator. The meters have been independently tested and listed to the UL-61010B CAT IV-600V/CAT III-1000V safety rating.

ELECTRICIANS' INSIGHTS
According to Jim Gregorec, Group Manager, Test & Measurement Business Unit, IDEAL INDUSTRIES, INC., the new clamp meters were designed by electricians for electricians: "We conducted extensive focus groups with electricians to uncover which clamp meter features they like and don't like, as well as what challenges they regularly confront that are not being meet by traditional clamp meter designs. Their chief complaints were that when measuring cable with a standard clamp meter it's very difficult to clamp the meter onto a cable in tight spaces or panel boards, and that the displays are simply not bright enough and even when they are, the displays can not be seen because of the angle."

To combat the display problem IDEAL created the TightSight(TM) LCD. Positioned on the bottom of the meter, the TightSight display allows the user to view results at arm's length from almost any angle in the tightest of spots. The tester's super-bright main display and the TightSight have large numbers and symbols highlighted by a green glowing backlit that can be read from several feet away, whether the electrician is working in direct sunlight or complete darkness. When not in use a hinged rubber cover protects the TightSight display from the environment or accidental drops.

Tackling the clamping problem took equal innovation. IDEAL streamlined and tapered the clamp meter jaw to make it easier to maneuver through bundles of wire and to secure multiple conductors. It also added a unique hook tip on the jaw's end for the express purpose of separating individual wires from the bundle.

SAFETY A CRUCIAL CONCERN
Another insight from the IDEAL focus groups was the electricians' heightened concern for safety. This directed IDEAL to build into its clamp meters an exclusive High Voltage Indicator that alerts the user if any voltage over 30V AC/DC is present on any and all functions on any range. Unfortunately, it is not uncommon for an electrician to accidentally set a clamp meter on the wrong function and after seeing that the display reads zero, believe a live wire is carrying no voltage. The IDEAL High Voltage Indicator beeps and blinks an LED to warn the user if voltage is present, no matter what function the meter is set on.

The UL Listing of the meters to CAT IV-600V/CAT III-1000V is further testament to the IDEAL commitment to safety.

WIDE CHOICE OF METERS
IDEAL is offering its new clamp meters in several designs to meet the widest needs of industry.

770 SERIES: These heavy-duty clamp meters provide electricians with all the features they need for measuring in 1000A AC environments, including 2-inch jaws for getting around phase conductors in larger bus bars, True RMS, Max/Min, peak hold, audible continuity and data hold. The model 61-772 tests large AC current applications, while the 61-774 is for AC/DC testing.

760 SERIES: Perfect for everything from routine current measurements to testing industrial motors, the 760 Series covers every scenario up to 600A AC. The model 61-764 is ideal for basic current measurements, but also has an array of features like Min/Max and selectable auto power off. The 61-766 has the added capabilities of True RMS, capacitance and 40-100Hz frequency measurement, making it the right choice for measuring circuits with variable speed drives. Those working with DC motors and circuits will appreciate the 61-768 with its DC current measurements and True RMS.

All meters are backed up by the IDEAL Lifetime Limited Warranty.

For more information, contact IDEAL INDUSTRIES, INC., Becker Place, Sycamore, Illinois 60178. Or phone 1-800-435-0705, Fax: 1-800-533-4483. On the web, www.idealindustries.com.

IDEAL INDUSTRIES, INC. has been serving the electrical industry since 1916. IDEAL is one of the world's leading manufacturers of professional quality tools and supplies serving installation professionals in the construction, maintenance, data communications and original equipment manufacturing industries.

More from Agricultural & Farming Products