Clamp Meter transmits readings to FLIR IR cameras.
Press Release Summary: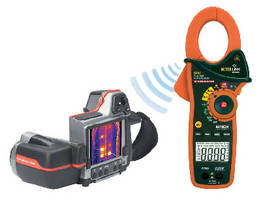 Featuring built-in IR thermometer with laser pointer for hot-spot detection, 1,000 A CAT IV Model EX845 utilizes METERLiNK(TM) technology to wirelessly connect to FLIR IR cameras via Bluetooth(TM), accelerating IR inspections and diagnostics. True RMS meter functions include AC/DC current, voltage, resistance, capacitance, frequency, infrared and contact temperature, diode-test, and continuity check. With 1.7 in. jaw opening, meter handles conductors up to 750 MCM.
---
Original Press Release:

Extech EX845 METERLiNK(TM) Clamp Meter Transmit Readings to FLIR IR Cameras



Increased connectivity accelerates IR inspections and diagnostics

(Waltham, MA, USA) Extech Instruments (www.extech.com/instruments), makers of the best handheld test and measurement tools, introduces the new EX845, a 1000A AC/DC CAT IV clamp meter with new METERLiNK(TM) technology and a built-in infrared thermometer.

Introducing METERLiNK(TM)

METERLiNK(TM) is an exclusive new technology that wirelessly connects FLIR infrared cameras to Extech meters via Bluetooth(TM) to accelerate and simplify inspections. During infrared inspections of electrical components, users can transmit key electrical readings such as current or voltage from an Extech EX845 clamp meter directly to a FLIR infrared camera. METERLiNK(TM) instantly imprints the electrical readings onto a related infrared image not only adding time-savings, but also ensuring accurate, coordinated documentation for PdM inspection reports.

About the EX845

The rugged new Extech EX845 1000A clamp meter is designed to deliver safety and versatility-without compromising performance or innovation. The EX845's advanced True RMS meter functions include AC/DC current, voltage, resistance, capacitance, frequency, infrared and contact temperature, diode-test, and continuity check. The fast-responding EX845's peak hold function captures inrush currents and transients.

The bright 4-digit, 4,000 count backlit display is complemented by several one-button functions including data hold, min/max, and selectable auto- or manual-ranging. The large 1.7" (43mm) jaw opening handles conductors up to 750MCM or multiple conductors such as two 500MCM. For quick, point and shoot temperature readings, the patented, non-contact IR thermometer with laser pointer is useful for fast hot-spot detection.

The EX845 has a CAT IV-600V, CAT III-1000V overvoltage safety rating and is CE and ETL approved. The meter comes complete with an 8-piece professional test lead set, a 9V battery, Type K temperature probe, and a belt holster. NIST certification is available for this product. To learn more about the new EX845, or to find an Extech distributor, please visit http://www.extech.com/instruments.

About Extech Instruments

Extech Instruments is recognized as the source for the best handheld test and measurement tools worldwide. Founded in 1971, Extech is known for its depth and breadth of innovative testers and meters suited for electrical, HVAC, building/restoration, as well as a host of environmental testers for measurement of sound, light, humidity and other factors. All Extech meters are distributed worldwide through leading representatives, distributors and OEMs. The company is headquartered in Waltham, Massachusetts, USA and is ISO 9001 2000 certified. Extech is a wholly owned subsidiary of FLIR Systems, Inc.

Please send all sales leads to Tracy Milhomme, Marketing Communications Coordinator,

Extech Instruments, 285 Bear Hill Rd., Waltham, MA 02451 USA

Phone: 781-890-7440; Fax: 781-890-7864

Email: tracy.milhomme@extech.com


Specifications

              Range             Basic Accuracy 	 

AC/DC Current     0.1 to 1000A             ±2.8% 	 

AC/DC Voltage     0.1mV to 1000V         AC: ±1.5%; DC: ±2.8% 	 

Resistance       0.1 to 40MΩ              ±1.5% 	 

Capacitance     0.001nF to 40,000μF           ±3.0% 	 

Frequency       0.001kHz to 4kHz            ±1.5% 	 

IR Temperature    -58 to 518ºF (-50 to 270ºC)   ±2.0% rdg or ±4ºF/±2ºC 	 

Type K Temperature  -4 to 1400ºF (-20 to 760ºC)    ±(3%rdg+9°F/5ºC) 	 

Continuity        Yes 	 

Inrush          Yes 	 

Diode           Yes 	 

Dimensions/Weight  10.6x4.3x2" (270x110x50mm)/ 13.6oz (386g)