Clamp ensures fluid connections withstand demanding environments.
Press Release Summary: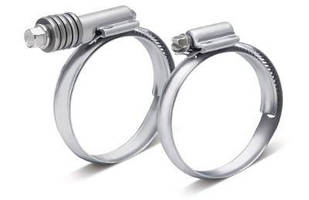 Used for fluid connections in high-pressure applications using rubber or silicone hoses, Breeze Super-Seal clamp features high-pressure, dual-seal profile and provides adjustability via worm-drive closure mechanism. Recessed hardware attachments promote continuous 360° lines of sealing, while convex-shaped band promotes spring force. Offered with or without Belleville washers, this product can be used on 36–118 mm dia rubber or silicone hoses.
---
Original Press Release:

NORMA Group Introduces New Breeze Super-Seal Clamp



Robust connections in demanding environments



AUBURN HILLS, Mich. -- NORMA Group, a global market leader in engineered joining technology, has launched production of the new Breeze Super-Seal clamp for fluid connections in high-pressure applications using rubber or silicone hoses. Designed to meet OEM and aftermarket applications, the clamp features a high-pressure dual-seal profile and provides a wide range of adjustability due to its worm-drive closure mechanism.



As engine operating temperatures and pressures increase, industrial applications ranging from passenger and commercial vehicles to agricultural and construction equipment need clamps that can prevent leaks in harsher environments, for example, in coolant and air lines.



The two high-pressure beads of seal around the periphery of the clamp band focus the load into a very small area and create a higher radial pressure - with the same amount of torque. This profile acts to prevent leaks and secure the hose under harsh operating conditions. The Breeze Super-Seal clamp has been designed with recessed hardware attachments to better maintain 360-degree lines of sealing.



The Super-Seal's unique convex-shaped band provides high spring force resulting in consistent clamp load during joint contraction and expansion. The new clamp, offered with or without Belleville washers, can be used on rubber or silicone hoses in diameters from 36 mm to 118 mm.



The Super-Seal HD with Belleville washers can be used on hoses with a higher compression set to maintain adequate clamp load as the joint diameter contracts. Super-Seal HD offers clamping pressures up to 50 percent higher than that of other clamps.



"The Breeze Super-Seal clamp is our latest breakthrough in clamping technology and is available for the OEM and aftermarket," notes Tim Jones, president of NORMA Americas. "We are preparing to ship Super-Seal to several heavy equipment customers and expect to be specified on additional car and truck OEM programs. Super-Seal will be a great alternative for repairs as well, especially in applications with limited space."



The aftermarket fleets and the industrial distribution community can purchase Super-Seal now through NORMA Americas' National Distribution Center in Lake Orion, Michigan.



Additional information on the company is available on www.normagroup.com. To download press pictures, please visit normagroup.com/norma.nsf/id/PR-Imagery_EN. Distributors interested in stocking the new Super-Seal clamp can call 1-855- 667-7228 for more details.



About NORMA Americas

NORMA Americas is an integral part of the NORMA Group, a global market leader in engineered joining technology. NORMA Americas manufactures high quality clamps, connectors and fluid systems that safely link a variety of vital components in vehicles, aircraft, trains and ships as well as in water management. With more than 1,300 employees it operates eight production facilities in North and South America with annual sales of about EUR 395 million. NORMA Americas' strong brand portfolio includes the brand names ABA®, Breeze®, Clamp-All®, CONNECTORS®, Five Star®, Gemi®, NDS®, NORMA®, R.G.RAY®, and TORCA®. NORMA Americas is headquartered in Auburn Hills, Michigan.



About NORMA Group

NORMA Group is a global market leader in engineered joining technology. The company manufactures a wide range of innovative connecting solutions and water management technology offering more than 35,000 products to customers in 100 countries with around 6,500 employees. NORMA Group helps its customers and business partners to react to global challenges such as climate change and increasing scarcity of resources. NORMA Group joining products can be found in vehicles and trains, ships and aircraft, buildings and water management as well as in applications for the pharmaceutical and biotechnology industry. The company generated sales of around EUR 890 million in 2015. NORMA Group operates a global network of 22 production facilities as well as numerous sales and distribution sites across Europe, the Americas, and Asia-Pacific. NORMA Group has its headquarters in Maintal, Germany. NORMA Group SE is listed on the German stock exchange (Prime Standard) and included in the MDAX index.



CONTACT: Company contact: Daphne Recker, Group Communications, NORMA Group SE, Tel.: +49 6181.6102.743; or Media Contact: Larry Weis or Mike Arnholt, AutoCom Associates, Phone: +1 248.647.8621, Email: lweis@usautocom.com, marnholt@usautocom.com

More from Machinery & Machining Tools