Clamp Control operates pneumatic tensile-tester clamps.
Press Release Summary: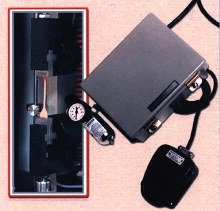 Electronic ESL Pneumatic Clamp Control fits all tensile testers and plugs into standard 110 Vac outlet. It comes with filter/suppressor, air-pressure gauge, and pressure-control valve. Actuated by double-acting foot switch, both hands remain free for loading and unloading of test specimens. Foot switch has 3 operating positions: both clamps open; upper clamp closed; and both clamps closed. Maximum air pressure is 100 psi.
---
Original Press Release:
Electronic Pneumatic Clamp Controls for All Tensile Testers

Electro Standards Laboratories (ESL) has just developed the ESL Pneumatic Clamp Control for the operation of pneumatic tensile tester clamps. Actuated by a double acting foot-switch, both hands remain free for speedy loading and unloading of test specimens. The ESL Pneumatic Clamp Control fits all tensile testers and is ready to plug into a standard 110 VAC outlet. The unit comes complete with a Filter/Suppressor, Air Pressure Gauge, and Pressure Control Valve.

The ESL Pneumatic Clamp Control is easy to operate. The foot-switch has three operating positions: in the lowest, both clamps are open; in the middle, the upper clamp only is closed; in the upper position, both clamps are closed. The operator loads the sample in the upper clamp first and aligns the sample. When
properly loaded and aligned, releasing the foot switch closes the lower clamp. Maximum air pressure is 100 psi.

For more information on the ESL Pneumatic Clamp Control, call 401-943-1164 or E-mail eslab@ElectroStandards.com for the free catalog, "Clamps, Grips, and Fixtures for Tensile Testers."

Electro Standards Laboratories

26 Western Industrial Drive

Cranston, RI 02921

Tel: 401-943-1164

Fax: 401-946-5790

E-mail: eslab@ElectroStandards.com

www.ElectroStandards.com
More from Thermal & Heating Equipment